Saint John's, Saint John AG
St Johns Car Hire In Antigua
St John's is a wonderfully evocative city, full of the colours, scents and sounds of the Caribbean.
Whether you arrive by car or cruise ship you are soon immersed in the surroundings, be that the market with its stalls packed with local fruits and flowers, or the pastel coloured cottages which draw the eye.
On the skyline there is St John's Cathedral with its white towers, which stands on a hilltop in the city. It is head of the Diocese of the North East Caribbean. Built on a fossilised reef in 1845 the current cathedral replaced one destroyed in the 1745 earthquake, which in turn was the successor to another which was earthquake damaged in 1683.
Notable places to visit in St John's include the Museum of Antigua and Barbuda which is housed in the city's former Court House . It is situated close to the port. Shopping, and in particular the duty-free variety, is popular at Heritage Quay. Those looking for something to remember their Antiguan holiday by would be well advised to visit Redcliffe Quay. If you are in the city on a Friday or Saturday visit the markets close to the harbour.
For those wanting to get a grander view of the city and harbour the 18th-century Fort James and Fort Barrington, both built to ward off the French and ruined in the 18th century are ideal destinations.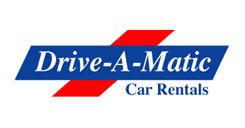 Drive-A-Matic | Address
Sir George Walter Highway
Sir George Walter Highway
St. John's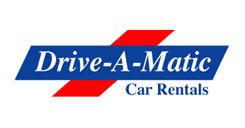 Opening Times
Mon
08:00
until
Mon
22:00
Tue
08:00
until
Tue
22:00
Wed
08:00
until
Wed
22:00
Thu
08:00
until
Thu
22:00
Fri
08:00
until
Fri
22:00
Sat
08:00
until
Sat
22:00
Sun
08:00
until
Sun
22:00
Drive-A-Matic | Address
V. C. Bird International Airport
V.C. Bird International Airport
Burma Rd
Osbourn







Details
Drive-A-Matic operate across the Caribbean and have a wide range of vehicles across Antigua and Barbuda. They offer hotel delivery should you require this and have high quality standards when it comes to both their customer service and fleet. Their fleet includes Suzuki Swift, Hyundai Accent, Ford EcoSport and the Kia Sportage.
Transfer Details
When meeting at airport, staff will be outside the customs area wearing a light blue shirt and dark blue pants. They will also have a sign with the clients name printed on it. Drive-A-Matic's telephone number will be on the car hire voucher, so if the agent is not found you will be able to get in touch with our office so Drive-A-Matic will be able to locate them.