Click Rent
Car hire with Click Rent at Alicante Airport
Alicante is a destination which appeals to not just families but also couples and those wanting a more lively break in the nearby Spanish resorts. There are plenty of beaches offering space to relax, take part in watersports, or to enjoy the nightlife in the many bars and restaurants which line the waterfront. Enjoy all that Alicante and the surrounding region has to offer with car hire from Click Rent.
Click Rent provide great value car rental as a mid-range supplier. If you are not worried about having a brand new car when you hire then Click Rent could be an option for you. With their offices off-airport they are also able to keep their prices lower than many competitors. At Alicante airport you will need to take a shuttle bus to get to the Click Rent office. The bus leaves regularly from outside the terminal building on level -2.
Child car seats or a GPS can be added to your rental package. Click Rent's own additional insurance may be offered to you when you arrive. You may need to be fairly clear with them if you do not wish to purchase it. You are under no obligation to buy it unless it is written into your contract. You can always ask them to show you if they are insistent - this can often end the discussion!
Branch Information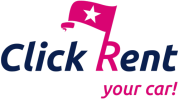 Address
Alicante
Carr. de Torrellano al Aeropuerto ,carretera CV 852, Elche, Alicante
03320
Opening Times
Mon
08:00
until
Mon
19:59
Tue
08:00
until
Tue
19:59
Wed
08:00
until
Wed
19:59
Thu
08:00
until
Thu
19:59
Fri
08:00
until
Fri
19:59
Sat
08:00
until
Sat
19:59
Sun
08:00
until
Sun
19:59



Out of hours may be possible for an additional charge, please run a quote to check availability.
Details
ClickRent is a mid range supplier, which can offer you a modern fleet at reasonable prices across Spain in locations such as Mallorca, Menorca, Ibiza, Valencia and Alicante. Their offices are conveniently located at airports. There are free shuttle busses offered giving their renters a stress-free car hire experience.
Transfer Details
The vehicles are delivered at the office next to the airport located at Carretera CV 852 from the Airport to Torrellano, 03320, Elche. The courtesy bus picks up customers outside the platforms 1-5 of the bus area (floor -2) of the Alicante Airport reservation and will drive them to our facilities, where the contract will be formalized and the vehicle is provided.
However, despite not providing the flight number, if customers call the main office number +34 971 730 696, a bus service will be offered too. In case the customer arrives before the time indicated in your reservation, you must request the transfer service by phone: +34 971 730 696.
The vehicles must be returned in the same office at the previously agreed time, from where our bus Will transfer customers to the airport. We recommend being in our office 3 hours before the departure of the flight.
For bookings with arrival time beyond 1.00 am and before 6.00 am a valid flight number must be confirmed and the booking confirmed by telephone. To receive the car at the airport, the customer must have previously requested the service.