Centauro
Barcelona Airport Car hire with Centauro
Barcelona is a great place to visit, and many tourists tend to migrate there in the Summer months. Whilst there is much to do in the city including visiting cultural attractions such as the Sagrada Familia and Gaudi's architecture, there is also the beach to enjoy, plus many lively restaurants and bars. It is the ideal location for a hire car as it allows you to explore not only the city but also further afield within Spain.
Centauro is located off the airport's ground and therefore provide a shuttle service to and from the office. If you are arriving into Terminal 1, go outside of arrivals, continue walking along in direction of parking G, and go down the stairs and you will reach where the Centauro shuttle bus takes you to the office. If you are coming in to Terminal 2 A & B, come out of the terminal building, turn right and pass the taxi rank continuing along you will find the minibus area. Finally, for Terminal 2C, once again come out of the terminal building and on your left you will see an elevated walkway, after a few meters you will find the minibus area. From here you can get the shuttle bus to the car hire desk to collect the rental paperwork and keys for the car.
Centauro hold a fairly new fleet of cars, and there are various sizes of vehicle to fit you, your party and luggage in comfortably. There are three packages offered by Centauro, all offering different levels of insurance. Your vehicle will come with the minimum insurance required, but it is worth considering upgrading this and purchasing excess reduction products.
Should you require optional extras such as child seats and GPS navigational devices, Centauro can also hire these out to make your journey more comfortable.
Those who rent with Centauro look to get a good price on their hire car, and are therefore happy to have to get a shuttle bus to the office for a lower price than those firms situated within the airport terminal. You may, however, be approached regarding purchasing additional cover when you get to the car rental firm's desk and it may be worth considering whether you would like or need extra cover before you get to the desk so you can quickly say yes or no. If you are prepared to be approached regarding extra insurance or excess reduction products and to get a shuttle bus for a cheaper price then you are likely to be satisfied with the service you receive.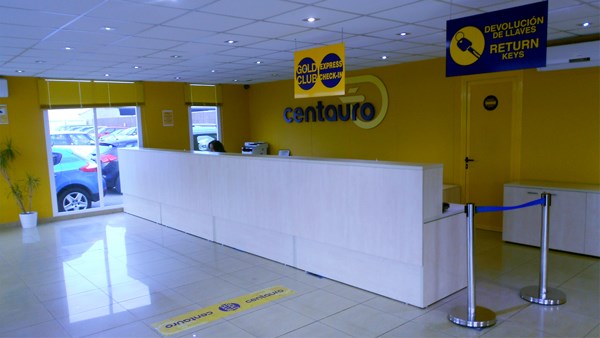 Branch Information

Address
Barcelona Airport
C/ Alta Ribagorça nº 30-34
Poligono Mas Blau II
El Prat de Llobregat
Barcelona
08820
Opening Times
Mon
07:00
until
Mon
23:00
Tue
07:00
until
Tue
23:00
Wed
07:00
until
Wed
23:00
Thu
07:00
until
Thu
23:00
Fri
07:00
until
Fri
23:00
Sat
07:00
until
Sat
23:00
Sun
07:00
until
Sun
23:00



Out of hours may be possible for an additional charge, please run a quote to check availability.
Details
Centauro are a high quality low cost Spanish car hire company. At Barcelona their fleet are renewed every year so you can be assured of an excellent quality car and they run a highly sufficient shuttle service to their offices just outside the airport.
Being off airport means they can keep their prices particular competitive.
Transfer Details
Terminal 1: Once in the arrival hall, walk behind the cafe 'Go Natural' and follow signs for Parking (P) G . At the end of the walkway go down to the lower level and wait in the bus area to your left for the Centauro Rent a Car shuttle bus which comes every 10/15 mins.
Terminal 2 A & B: Leave the building and turn right, staying on the same side of the road pass the taxi rank. Continue on until you reach the find the minibus area which is the Centauro departure point..
Terminal 2 C: Come out of the building and on your left you will see an elevated walkway. Walk under this, and after walking a few metres to the left you will see the minibus area, where your Shuttle will depart.