Mex Rent A Car
Mex Rent A Car at Cancun airport
Cancun is a beautiful resort on the Caribbean coastline. It is steeped in Mayan culture with some significant ruins in the area such as The Temple of the Scorpion. There is also a naturally created aquarium which is totally magical. The beaches are stunning with coral sands that stretch for miles. If you ever get tired of the incredibly clear sea then there is always the underwater museum. Cancun's nightlife is also definitely something to experience.
Mex Rent A Car are a mid range provider so they offer decent cars from a good range. They are well established in Mexico with several offices in key locations. Their cars tend to be changed before they are 2 years old so they are pretty reliable. All the cars are automatic. At Cancun airport you can proceed to the Mex counter at the terminal where they will organise the shuttle bus to take you to your car.
You can choose to remove the excess liability and reduce the security deposit by selecting the Total Cover package instead of the Standard one. YOu can opt to include a 'TravelTab adventurer' as an extra which is internet access, a telephone service and GPS in one. Child car seats and an extra driver can also be added to your package for an additional fee.
Branch Information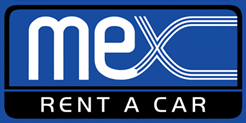 Address
Cancún Airport
Cancun International Airport
Zona de Arrendadoras Terminal 1, 2 & 3.
77565
Opening Times
Mon
00:00
until
Mon
23:59
Tue
00:00
until
Tue
23:59
Wed
00:00
until
Wed
23:59
Thu
00:00
until
Thu
23:59
Fri
00:00
until
Fri
23:59
Sat
00:00
until
Sat
23:59
Sun
00:00
until
Sun
23:59



Out of hours may be possible for an additional charge, please run a quote to check availability.
Details
Mex Rent A Car are a mid-range Mexican car hire company offering their customers a wide location network, strategically located in the major cities and airports of Mexico. They offer a new fleet up to 18 months old and a wide variety of car categories at lower prices. Mex are the only supplier who provide all cars with automatic transmission across Mexico. Their service is targeted to any traveller, from tourists to business travellers and local customers.
Transfer Details
Please proceed to car hire area located within airport's terminals 1, 2 & 3. After collecting your luggage, please proceed to the car rental area where you will find the Mex Rent-A-Car booth. Uniformed Mex Rent-A-Car agent will arrange the shuttle to pick you up and drive you to our main office to collect your vehicle. Mex Rent-A-Car shuttles are blue with the Mex Rent-A-Car logo. You can also call us at +52 (33) 4170 8243 for additional information.