Air Auto
Faro Airport car hire with Air Auto
Faro is a tantalising mix of history, culture, beaches and nightlife. Even if you are heading away from the airport for your holiday stay, it is worth spending time exploring the Algarve's capital. Take your Faro car hire along the coast for an excursion to the lagoons and islands of the region.
On your arrival at Faro airport, head for park P4 by following the signs for 'Pre-Booking Rent a Car'. A member of staff from AirAuto will meet you there and show you to the shuttle bus. The bus ride is very short - just 300 metres - to the AirAuto office where you can pick up your hire car.
AirAuto offer three different packages. Their standard car hire includes Collision Damage waiver with an excess, Third party cover and Theft Waiver. The Tyres, Windows and Locks package includes the same insurance as the standard but also cover for damage to the tyres, windows and locks - areas which are not included in the Collision Damage Waiver. The third package includes includes the standard insurance but without the excess. You can add cover for tyres, windows and locks if you wish to.
AirAuto also offer child seats, GPS and Wi-Fi devices for rental. Additional drivers can also be added to the rental agreement for an extra charge.
AirAuto are a local company with just the one office at Faro Airport. They do, however, offer a delivery service of their vehicles to various locations across the company for an additional fee. They are a respected company delivering a high standard of customer care and a wide range of vehicles.
Branch Information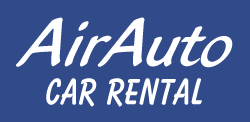 Address
Faro (Airport)
4 Rua Samuel Gacon
Faro
8005 282
Opening Times
Mon
08:00
until
Mon
20:00
Tue
08:00
until
Tue
20:00
Wed
08:00
until
Wed
20:00
Thu
08:00
until
Thu
20:00
Fri
08:00
until
Fri
20:00
Sat
08:00
until
Sat
20:00
Sun
08:00
until
Sun
20:00



Out of hours may be possible for an additional charge, please run a quote to check availability.
Details
Airauto are a well established, local car rental company situated in Faro. They offer a range of modern cars to customers that can be picked up from Faro Airport or delivered to various locations within Portugal, and aim to provide a good vehicle, quality service and cost effectiveness.
Transfer Details
Airauto are based at Faro Airport, they have an off airport office for which a shuttle bus service is provided. The meeting point for the shuttle bus is located in car park P4, a member of staff from Airauto will be here to welcome and assist you. To get to car park P4, follow the signs saying 'Pre-Booking Rent-a-Car' when leaving the terminal. You will be transported by shuttle bus from the car park to Airauto's office. You can sign the documents and pick up your hire vehicle here.
If you are feeling energetic you can also walk to the office - which you can see across the road from Car Park 4