Centauro
Faro Airport Car Hire with Centauro
Faro Airport is just under 5km from the city centre making it a great place to hire a car and have the flexibility to visit not just the city but also the surrounding area.
Centauro are located off the airport site and there is a shuttle service to take you to their offices. After baggage reclaim, come out into the Arrivals Hall where you will find a Centauro Rent-a-Car staff member waiting for you at the signposted 'MEETING POINT' to take you to the Centauro shuttle bus.
There are a range of cars that you can rent from Centauro, including Economy and Compact, Automatic transmission vehicles and convertibles. This means you have the choice of many vehicles to find the one you want.
Centauro offer three packages, Basic, Comfort and Premium. The Basic Package includes a Full-Empty Fuel Policy and the minimum level of insurance. Comfort gives customers a Full-Full Fuel Policy with an additional driver and the minimum level of insurance. Finally, the Premium package offers a Full-Full Fuel Policy, Express check-in and full insurance without excess.
Those looking to rent from Centauro are looking for a competitive package that gives them the flexibility of a hire car without the large price tag. This is why many customers are happy to have to take a little longer collecting their car because they have to get a shuttle bus and are prepared to be asked to upgrade their insurance or prepay for tankful of fuel. Providing you are aware that this may happen then you are likely to be satisfied with the service and car you receive.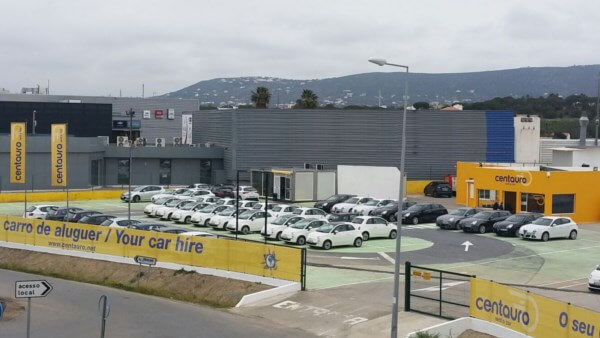 Branch Information

Address
Faro Airport
Estrada Nacional 125
Sítio do Arneiro
FARO
8005-412
Opening Times
Mon
07:00
until
Mon
23:00
Tue
07:00
until
Tue
23:00
Wed
07:00
until
Wed
23:00
Thu
07:00
until
Thu
23:00
Fri
07:00
until
Fri
23:00
Sat
07:00
until
Sat
23:00
Sun
07:00
until
Sun
23:00



Out of hours may be possible for an additional charge, please run a quote to check availability.
Details
Centauro are a high quality Spanish based low cost car hire operator who operate from offices just outside the airport. By being based off airport they can avoid the high fees demanded by the airport operator, and pass this on in the form of cheaper car hire prices for renters.
Transfer Details
Once you have collected your luggage, come out into the Arrivals Hall where a Centauro Rent a Car staff member will be waiting for you at the signposted MEETING POINT to escort you to the Centauro Shuttle Bus service. You will then be whisked to the nearby Centauro Car hire depot.