Drive 4 Less
Faro Airport Car Hire with Drive 4 Less
Faro have the winning mix of a city with masses of history and culture to explore, beside beautiful coastline. Hiring a car in Faro is a great idea because it allows you to enjoy Faro but also travel further afield in Portugal and see more of this exciting and vibrant country.
Drive 4 Less are the low-cost arm of the Portuguese car hire firm Guerin and therefore operate from Guerin's desk at Faro Airport. This desk is inside the terminal building, after baggage reclaim, towards the right, at the front of the airport. Note there are car hire offices outside of the terminal as well, which you may be directed to, if this is the case follow the Rent a Car signs to these. From this office you will be able to sort out the documents for your rental and pick up the keys to your vehicle.
There is a fairly large fleet of cars held by Drive 4 Less, enough choice for you to find a vehicle which comfortably fits both passengers and luggage in. There is basic insurance offered with your vehicle but it is very minimal and carries a large excess with it, Drive 4 Less offer further insurance to top up your cover and excess reduction products.
More often than not, customers that choose to rent with Drive 4 Less are looking for competitive rates and a conveniently located desk. The excesses and pre-authorisations may tend to be higher than those with the parent company, Guerin, however prices are generally lower. If you are prepared for this then you are likely to walk away a satisfied customer.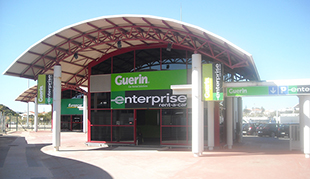 Branch Information

Address
Faro Airport
Aeroporto Internacional de Faro
8001-701
Opening Times
Mon
06:00
until
Mon
23:59
Tue
06:00
until
Tue
23:59
Wed
06:00
until
Wed
23:59
Thu
06:00
until
Thu
23:59
Fri
06:00
until
Fri
23:59
Sat
06:00
until
Sat
23:59
Sun
06:00
until
Sun
23:59



Out of hours may be possible for an additional charge, please run a quote to check availability.
Details
Drive4less are the low cost operation of Guerin car rental, and are situated at prime locations in Portugal. This gives the users of advantage of being able to access a great fleet at low prices, but the mileage limitations make them less appealing to anyone driving any distance. Do check whether you are likely to fall foul of this, as you could face a big bill if you exceed the limits.
Transfer Details
No transfer is required - you walk direct to the Car Hire Centre, where you will find the Drive4less offices. An advantage of using them is that you avoid having to pay the local car parking fee of €15 charged by the airport on meet and greet suppliers.