Guerin
Faro Airport Car Hire with Guerin
Faro has both the city and coast, making it a great holiday destination to relax but also enjoy the cultural attractions it has to offer. By having a hire car you can really make the most of your trip in Faro and explore far and wide.
Guerin are a Portuguese car hire company that are well-known within the country. Guerin are located on Faro Airport's grounds. You can find their office inside the terminal, after baggage reclaim, towards the right and at the front of the airport. Here you will be able to sort out the paperwork and get the keys to your vehicle.
Guerin have a wide range of vehicles of all different sizes for you to choose from and find the most appropriate for your trip. There are also a range of extras available to you, including Excess Reduction, Additional Driver, Child Seats, GPS Devices, a higher level of insurance and Personal Accident Insurance (PAI).
Those renting from Guerin can expect a good level of quality in both the service and vehicle. Guerin care about customer service and aim to give their customers a easy and relaxed experience when they hire a car. They are convenient as their office is inside the airport terminal, so there is no need to waste time getting a shuttle bus to an off-site location, if you have only a short trip or are looking to make a swift exit from the airport you're likely to be a satisfied customer.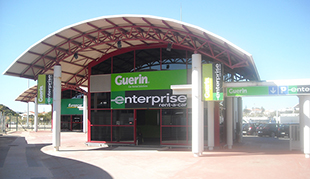 Branch Information

Address
Faro Airport
Aeroporto Internacional de Faro
Faro
8001-701
Opening Times
Mon
06:00
until
Mon
23:59
Tue
06:00
until
Tue
23:59
Wed
06:00
until
Wed
23:59
Thu
06:00
until
Thu
23:59
Fri
06:00
until
Fri
23:59
Sat
06:00
until
Sat
23:59
Sun
06:00
until
Sun
23:59



Out of hours may be possible for an additional charge, please run a quote to check availability.
Details
Guerin car rental are Portugal's largest domestic car hire company with offices is all major towns and cities in Portugal. This gives the users of advantage of being able to access a great fleet but also benefit from support from locations on a nationwide basis.
Transfer Details
No transfer is required - you walk direct to the Car Hire Centre, where you will find the Guerin offices. An advantage of using them is that you avoid having to pay the local car parking fee of €15 charged by the airport on meet and greet suppliers.