Firefly
Firefly Car Hire at Florence Airport
There are very few people who go to Italy without including at least a day or two in the magical city of Florence. With an array of museums and galleries, it is possible to admire some of the world's most famous pieces of art. Michelangelo's David is one of the most popular attractions. Walk across the Ponte Vecchio over the Arno river or, once you have had enough of the shops, why not choose a stroll in Boboli gardens? Florence is also an easy base for exploring more of Tuscany. If you like to explore cities then Siena and Lucca or all within reach.
Although Firefly are part of the same group as Hertz, they are a budget brand. Customers can expect a lower headline price but they then may face a customer service desk keen to sell on their extras. If you don't mind this and just want a good deal with the reassurance of a large name then Firefly may be your preferred choice. They also have a wide range of cars to choose from although they may have a few more miles on the clock than a premium supplier.
The Firefly desk at Florence airport is a short bus ride away at the designated car hire centre. The buses run every 15 minutes from the Shuttle Bus stop. This bus stop is located just outside the exit door from Arrivals. Follow the signs for the Car Rental Shuttle in the airport building. Firefly offer a Glass and Tyre cover as an optional cover for their car hires. Customers with younger children can request child car seats for an additional fee. GPS units and snow chains are also available.
Branch Information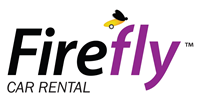 Address
Firenze Airport
Aeroporto Amerigo Vespucci
Via del Termine, 11
Firenze
Italy
50127
Opening Times
Mon
08:30
until
Mon
23:30
Tue
08:30
until
Tue
23:30
Wed
08:30
until
Wed
23:30
Thu
08:30
until
Thu
23:30
Fri
08:30
until
Fri
23:30
Sat
08:30
until
Sat
23:30
Sun
09:30
until
Sun
23:30



Out of hours may be possible for an additional charge, please run a quote to check availability.
Details
Firefly is the family focused, budget branch within the Hertz brand, which offers you higher mileage vehicles, but still of good quality. They are the optimal choice for those customers who are looking for a low cost car rental with a big, reputable brand within Italy.
Transfer Details
The Firefly Location is located in the Rent a Car Terminal together with all the Rent a Car Companies. Please catch the Rent a Car dedicated Shuttle Bus provided by the Airport Authority. The Shuttle Bus Stop is located outside the Arrival's exit on the right side (inside the airport follow the direction "Rent a Car Shuttle"). The bus runs every 15 minutes and takes 5 minutes to get to the Rent a Car Terminal.