Mex Rent A Car
Mex Rent A Car at Guadalajara Airport
Guadalajara is Mexico's second largest city. It is also the capital of the region of Jalisco. It is easy to spend time in this fascinating city with its mix of cultures but access to a hire car means you can also embark on some amazing day trips. Tequila is the birthplace of the drink and there are still several distilleries where you can take part in tasting tours. The gorgeous Lake Chapala is the largest lake in Mexico and only 30 miles from Guadalajara. You can even take a boat ride out to one of the islands on the lake for a day.
Mex Rent a Car have many offices across Mexico and therefore customers can benefit from a wide network of customer support. Their cars are renewed every 18 months so you are unlikely to receive one with too many miles on the clock. At Guadalajara airport Mex Rent A Car operate a shuttle service for their customers. You will need to proceed to the car rental area once you have collected your baggage and the agent at the booth there will arrange your transportation.
You will be offered the standard package with Mex Rent A Car but you can choose to upgrade to the Total Cover package if you so wish. This removes the excess liability leaving just the lower security deposit in place. You can also include extras to go with your car such as child seats or an additional driver. The extra costs will be factored into the Clarify price.
Branch Information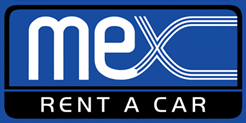 Address
Guadalajara Airport
Av Hangares 13
Guadalajara
Tlajomulco
Jalisco
45659
Opening Times
Mon
00:00
until
Mon
23:59
Tue
00:00
until
Tue
23:59
Wed
00:00
until
Wed
23:59
Thu
00:00
until
Thu
23:59
Fri
00:00
until
Fri
23:59
Sat
00:00
until
Sat
23:59
Sun
00:00
until
Sun
23:59



Out of hours may be possible for an additional charge, please run a quote to check availability.
Details
Mex Rent A Car are a mid-range Mexican car hire company offering their customers a wide location network, strategically located in the major cities and airports of Mexico. They offer a new fleet up to 18 months old and a wide variety of car categories at lower prices. Mex are the only supplier who provide all cars with automatic transmission across Mexico. Their service is targeted to any traveller, from tourists to business travellers and local customers.
Transfer Details
After collecting your luggage, please proceed to the car rental area where you will find the Mex Rent-A-Car booth. Uniformed Mex Rent-A-Car agent will arrange the shuttle to pick you up and drive you to our main office to collect your vehicle. Mex Rent-A-Car shuttles are blue with the Mex Rent-A-Car logo. You can also call us at +52 (33) 4170 8243 for additional information.