Click Rent
Click Rent, Car Hire at a great price at Ibiza Airport
Ibiza - an island waiting to be discovered and what better way than with a hire car? Everyone knows that there is a plentiful supply of beaches and nightlife in Ibiza but take a drive inland and you will be surprised at what you might find. There are some extraordinarily beautiful villages on the island or head up on the coastal paths for spectacular views. There are plenty of walking trails available from various locations around the island, from short strolls to more adventurous hikes.
The Click Rent office is located next to Ibiza Airport. Their courtesy shuttle bus will collect customers from the meeting point at Car Park P3 and take them to the Click Rent office. Cars are located at the office. On your return Click Rent advise arriving back with your hire car at least 3 hours before your flight in order to prevent any problems with delays.
Click Rent are a moderately priced car hire company offering a modern fleet to choose from. They operate only in Spain and their offices are located at airports which are very convenient for holidaymakers.
Reserve your hire car through Click Rent at Ibiza and add in the extras you may need such as car seats, a GPS or an additional driver. Click Rent will do everything they can to ensure you have an enjoyable and pleasant experience with your hire car.
Branch Information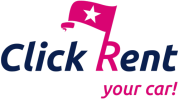 Address
Ibiza Airport
CARRER SANT JORDI 30
POLIGONO INDUSTRIAL CAN FRIGOLES
Ibiza
07817
Opening Times
Mon
08:00
until
Mon
19:59
Tue
08:00
until
Tue
19:59
Wed
08:00
until
Wed
19:59
Thu
08:00
until
Thu
19:59
Fri
08:00
until
Fri
19:59
Sat
08:00
until
Sat
19:59
Sun
08:00
until
Sun
19:59



Out of hours may be possible for an additional charge, please run a quote to check availability.
Details
ClickRent is a mid range supplier, which can offer you a modern fleet at reasonable prices across Spain in locations such as Mallorca, Menorca, Ibiza, Valencia and Alicante. Their offices are conveniently located at airports. There are free shuttle busses offered giving their renters a stress-free car hire experience.
Transfer Details
Vehicles are provided at the ClickRent office next to the airport, at Carretera del Aeropuerto km 5.8, Polígono industrial Can Frigoles, 07817 Sant Jordi, Ibiza. The courtesy bus picks up customers at the Car Park P3 Meeting Point (as you leave the terminal, on the left), Ibiza Airport, at the time indicated on your booking and will take customers to the office, where the contract is signed and the vehicle provided.
Reservations with arrival time beyond 11.00 pm and before 7 am a valid flight number is required. For bookings with a valid flight number the shuttle bus will wait up to 1 hour from the time of landing. For reservations without a flight number, the customer must request the transfer service on the telephone +34 971 730 696. The reservation will be cancelled after 1 hour from the time of the delivery scheduled in the reservation.