Centauro
Lisbon airport Car Hire with Centauro
Lisbon is one of the cheapest cities to stay in if you are looking for a break in Western Europe. Overflowing with colour, Lisbon is a city brimming with charm. Take a stroll through the cobbled streets and visit the numerous palaces and churches. Sample the local food - fresh fish is a must. Lisbon is the capital of Portugal so transport links from the airport are very good allowing great access to the rest of Portugal. If you are using the main roads, you will need to ask your hire car company about toll road payment.
Centauro's office is located a few minutes drive from the airport. A member of their staff will arrange to meet you in the arrivals hall (next to the Vodafone office) when you land. They will then show you to where you can board the shuttle bus to take you to your car. On your return, the shuttle bus will bring you back to the airport.
There are three different packages available through Centauro. They can add a fair fuel policy, an additional driver, express check-in and full excess-free insurance depending on the level you go for. Centauro offer a very reasonably priced car hire as long as you are prepared for the drawbacks of a more budget car hire which can include longer queues at the pick up desk and staff who may be keen to sell their additional insurance.
There are extras available at the desk if requires. As well as the additional insurance, customers can add an extra driver, car seats and a GPS.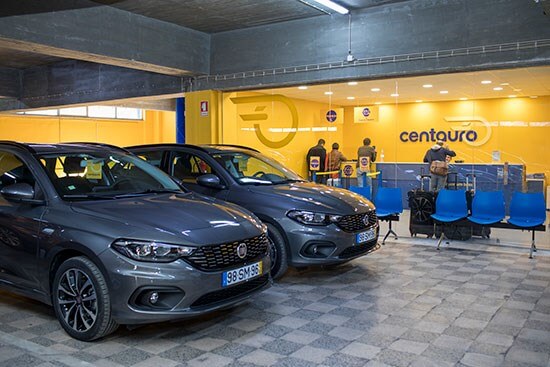 Branch Information

Address
Lisbon Airport
Centauro Rent a Car
Av. Severiano Falcão 2,
Prior Velho
Lisbon
2685-378
Opening Times
Mon
07:00
until
Mon
23:00
Tue
07:00
until
Tue
23:00
Wed
07:00
until
Wed
23:00
Thu
07:00
until
Thu
23:00
Fri
07:00
until
Fri
23:00
Sat
07:00
until
Sat
23:00
Sun
07:00
until
Sun
23:00



Out of hours may be possible for an additional charge, please run a quote to check availability.
Details
Centauro are a high quality low cost car hire company. They are based about 3 minutes drive from the airport and and offer a efficient shuttle service that is well run. This enables them to offer lower prices, passing on the savings this business model allows.
Transfer Details
Once you have collected your luggage, come out of the arrivals hall and cross the first zebra crossing right in front of you. Here you will find the Centauro shuttle bus to take you to Centauro's offices near to the airport.