Guerin
Lisbon airport Car Hire with Guerin
Lisbon is a city on the up. Visitors to the city can stroll through the cobbled streets, take a peek inside the many stunning churches and browse the flea markets with their stalls full of bargains. The colourful buildings reflect the sunshine and give a joyous atmosphere to the city. Try some local seafood at one of the restaurants or stop for a drink at a 'tasca'. There is so much history in the city of Lisbon too. Visit one of the many museums such as the Museu dos Coches which contains the world's largest collection of royal coaches. Lisbon makes the perfect starting point for exploring Portugal with your hire car.
Guerin are a well known car hire brand in Portugal. Their desk is located within the terminal building at Lisbon airport. They offer an extremely wide range of cars from the small compact to intermediate and large family sized cars. They have a strong desire to provide the highest level of customer care so their service standards are excellent and their vehicles are kept in superb condition.
Customers who choose to hire with Guerin may not pay the lowest price but they should not be disappointed. Guerin can provide extras such as child car seats, GPS units, as well as the option to extend the level of insurance provided.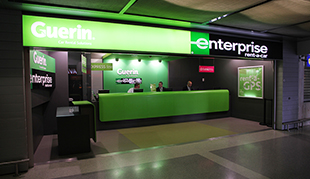 Branch Information

Address
Lisbon Airport
Aeroporto Internacional Humberto Delgado
Alameda Das Comunidades Portuguesas
Lisboa
1700-111
Opening Times
Mon
06:00
until
Tue
00:59
Tue
06:00
until
Wed
00:59
Wed
06:00
until
Thu
00:59
Thu
06:00
until
Fri
00:59
Fri
06:00
until
Sat
00:59
Sat
06:00
until
Sun
00:59
Sun
06:00
until
Mon
00:59



Out of hours may be possible for an additional charge, please run a quote to check availability.
Details
Guerin are the leading Portuguese car hire company. They have many locations right across the country, meaning they offer great service both at the desk and if you need their help during the rental period.
Transfer Details
One of the principal offices of the Portuguese car rental firm Guerin this is one of their most popular locations. Situated in the terminal the company offer both a highly efficient service and nationwide coverage through the many branches they have across Portugal.