Firefly
Firefly Car Hire at Milan Malpensa Airport
If you are planning a holiday in this part of the world then spending time in the gorgeous city of Milan is a must. From museums, theatres and cathedrals to the world famous La Scala opera house, this is a city brimming with culture. Car hire in Milan means the freedom to explore the many other attractive towns and villages in the local area as well as being able to travel further afield if you are planning a longer holiday. Just remember that, if you are considering taking the vehicle over the border into another country, then this must have been agreed with Firefly and any relevant fees paid.
Most people will have heard of Hertz, and Firefly are their budget arm. With Firefly the cars tend to be of a greater age and therefore have more miles on the clock but they are still maintained to a high standard. As a budget brand you can expect a lot more sales patter at the desk which can then lead to longer queues especially in their busy seasons so bear this in mind when booking. They are however, as part of the Hertz group, a reputable company. If you want to avoid the sales discussion then they may not be for you. At Malpensa airport the Firefly desk is just a short shuttle bus ride away. Call the number which should be on your voucher when you arrive to arrange transfer and follow their instructions.
Excess waivers and other cover such as for Glass and Tyres may well be offered at the desk. You can also pick up child car seats, a satnav and snow chains if they have been requested. If you do not request them in advance there is the risk that they may not have any available when you arrive.
Branch Information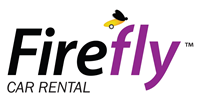 Address
Milan Malpensa Airport
Via Luigi Bailo 34
Somma Lombardo, VA
21019
Opening Times
Mon
08:00
until
Mon
23:59
Tue
08:00
until
Tue
23:59
Wed
08:00
until
Wed
23:59
Thu
08:00
until
Thu
23:59
Fri
08:00
until
Fri
23:59
Sat
08:00
until
Sat
23:59
Sun
08:00
until
Sun
23:59



Out of hours may be possible for an additional charge, please run a quote to check availability.
Details
Firefly is the family focused, budget branch within the Hertz brand, which offers you higher mileage vehicles, but still of good quality. They are the optimal choice for those customers who are looking for a low cost car rental with a big, reputable brand within Italy.
Transfer Details
Please call the phone number 0039 3406335433 when you arrive for the free shuttle service. If you are from Terminal 1, go to the exit 6 of the arrivals to wait for the shuttle bus. If you are from Terminal 2 go in front of the pharmacy indications to wait for the shuttle bus.