Drive-A-Matic
Drive-A-Matic Car Hire in Saint Johns, Antigua
Saint Johns is the capital of Antigua and although the largest city it still only has a population of around 22,000. Here you can come to understand the history of these beautiful islands by visiting the fascinating museum located downtown. Its exhibits describe the people who have lived here over the many thousands of years including information about its naval and slavery past. There is a lovely cathedral and plenty of markets to explore selling local foods and arts and crafts. This is a wonderful place to spend a day if you need a break from the beach or the watersports.
Drive-a-matic operate in many countries across the Caribbean. In many of these locations they offer a delivery service which can make your holiday that bit more special. It means you can go straight to your hotel after your flight without having to deal with paperwork at the car hire desk when you are tired. Their service is of the best quality and their extensive fleet is maintained to a very high standard.
Car hires automatically come with the standard package which comes with an excess which you would be liable for. If you wish to reduce that excess you can opt for the Excess Reduction package through Drive-a-matic which just leaves a much smaller liability. Car hires comes with a fair fuel policy and when booking with Clarify, any costs for additional drivers in Saint John include the price of the mandatory driving permit. Child car seats can also be added to your hire.
Branch Information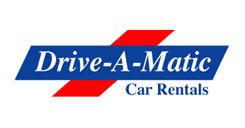 Address
Sir George Walter Highway
Sir George Walter Highway
St. John's
Opening Times
Mon
08:00
until
Mon
17:00
Tue
08:00
until
Tue
17:00
Wed
08:00
until
Wed
17:00
Thu
08:00
until
Thu
17:00
Fri
08:00
until
Fri
17:00
Sat
08:00
until
Sat
17:00
Sun
08:00
until
Sun
17:00



Out of hours may be possible for an additional charge, please run a quote to check availability.
Details
Drive-A-Matic operate across the Caribbean and have a wide range of vehicles across Antigua and Barbuda. They offer hotel delivery should you require this and have high quality standards when it comes to both their customer service and fleet. Their fleet includes Suzuki Swift, Hyundai Accent, Ford EcoSport and the Kia Sportage.
Transfer Details
Please proceed directly to the branch. Please note that a new mandate has been issued by the Government indicating that as of October 1, 2021, all travellers arriving in Antigua must be fully vaccinated against Covid19.