Click Rent
Click Rent Car Hire at Alicante Airport
Alicante appeals to a vast range of travellers. From those who like to party into the evening at all the many bars and clubs, to the sun worshippers who make the ost of Alicante's superb long beaches to those who want to soak in the history and culture of this beautiful part of Spain. Or perhaps you like to combine all three? Whichever takes your fancy you will not be disappointed with the view which stretches as far as the eye can see over the sparkling Mediterranean sea. A hire car is the ideal way to make the most of this stunning region of Spain.
The Click Rent desks are just a five minute shuttle bus ride away. The shuttle bus is automatically offered to those who provide a flight number when they make their car hire booking. It is still available to those who don't give their flight number but you will need to phone the main telephone number to make the arrangements. The bus leaves from stops 26-29 outside the main terminal on floor -2.
Click Rent are considered a mid range supplier which means that, although their fleet of cars are not brand new every year, they are of a high standard and therefore provide reliability and comfort to their customers. The extras that Click Rent can provide with their hire car packages include GPS units, additional driver fees, child car seats and snow chains. Click Rent also offer their own No Excess and Deposit Reduction package.
Click Rent provide good value car hire but they can be persuasive when it comes to offering their own insurance packages when you get to the rental desk. However you can buy independent excess insurance before you go and be prepared when you get to the desk.
Branch Information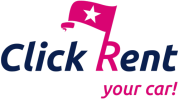 Address
Alicante
Carr. de Torrellano al Aeropuerto ,carretera CV 852, Elche, Alicante
03320
Opening Times
Mon
08:00
until
Mon
19:59
Tue
08:00
until
Tue
19:59
Wed
08:00
until
Wed
19:59
Thu
08:00
until
Thu
19:59
Fri
08:00
until
Fri
19:59
Sat
08:00
until
Sat
19:59
Sun
08:00
until
Sun
19:59



Out of hours may be possible for an additional charge, please run a quote to check availability.
Details
ClickRent is a mid range supplier, which can offer you a modern fleet at reasonable prices across Spain in locations such as Mallorca, Menorca, Ibiza, Valencia and Alicante. Their offices are conveniently located at airports. There are free shuttle busses offered giving their renters a stress-free car hire experience.
Transfer Details
The vehicles are delivered at the office next to the airport located at Carretera CV 852 from the Airport to Torrellano, 03320, Elche. The courtesy bus picks up customers outside the platforms 1-5 of the bus area (floor -2) of the Alicante Airport reservation and will drive them to our facilities, where the contract will be formalized and the vehicle is provided.
However, despite not providing the flight number, if customers call the main office number +34 971 730 696, a bus service will be offered too. In case the customer arrives before the time indicated in your reservation, you must request the transfer service by phone: +34 971 730 696.
The vehicles must be returned in the same office at the previously agreed time, from where our bus Will transfer customers to the airport. We recommend being in our office 3 hours before the departure of the flight.
For bookings with arrival time beyond 1.00 am and before 6.00 am a valid flight number must be confirmed and the booking confirmed by telephone. To receive the car at the airport, the customer must have previously requested the service.