KeyGoRent
KeyGo Rent Car Hire at Alicante Airport
KeyGo Rent at Alicante Airport are the latest addition to the companies offered by Clarify Car Hire. They have brand new offices - offer brand new cars - and have launched this year promising a great level of service.
As Alicante is one of the most popular Spanish destinations for British holidaymakers they should not be short of customers either.
Consider KeyGo Rent when you visit the Costa Blanca, with its wonderful stretch of beautiful coastline, superb beaches and many fantastic resorts. Travel further afield to cities such as Valencia and Murcia very easily with your hire car. Here you can visit some great museums, discover delicious local food and explore the culture of Spain in more depth.
Alicante itself has a fantastic coastline along 15 kilometres of magnificent, mainly blue flag, beaches all within easy reach if you have a rented car.
Pop into Alicante itself with your rental car and enjoy the incredible restaurants, visit the Whitbread Round the World Yacht Race Museum and climb the Castillo de Santa Barbara.
Check out our prices above and grab yourself a great rate for your car hire at Alicante Airport.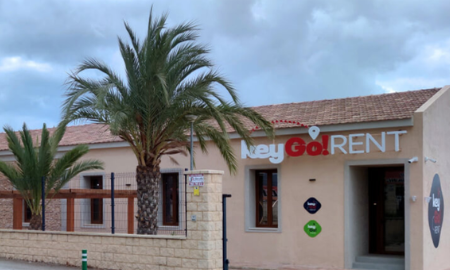 Branch Information

Address
Alicante Airport
Alicante Airport
Carretera Detorrellano Al Aeropuerto
Torrellano
03320
Opening Times
Mon
07:00
until
Mon
21:59
Tue
07:00
until
Tue
21:59
Wed
07:00
until
Wed
21:59
Thu
07:00
until
Thu
21:59
Fri
07:00
until
Fri
21:59
Sat
07:00
until
Sat
21:59
Sun
07:00
until
Sun
21:59



Out of hours may be possible for an additional charge, please run a quote to check availability.
Transfer Details
Pick up: The office is located 5 minutes from the Alicante airport. KeyGo Rent offers a free minibus service. Please follow the following instructions: once your flight has landed, you must exit arrivals and head towards the elevators. Take the elevator and go down to level -2. Once you exit through the doors, you will see the bus stops. Go to bus stop number 1-5. KeyGo courtesy minibus will take you to the office. 
Drop off: As soon as you enter the airport by your car you will see 3 lanes, please stay in the right lane. Turn right where the old Terminal 2 used to be. Turn right again at the round-about and continue 100 metres until you get to a STOP sign. 50 metres ahead you will see a small sign that says TORRELLANO. Turn left. KeyGo Rent is almost at the end of this road on the right-hand side. Key box is not available but KeyGo offers 24h parking house available for the customers who can return the car at any hour and a courtesy minibus will drive them to the airport (out of hours fees apply).