Solmar
Alicante is actually the birthplace of SolMar, and the location where they opened their first offices.
SolMar are situated away from the terminal building and a shuttle service is used to reach the offices. Out of peak season, and midweek, this operates well, and where issues occur it is almost always at the weekend in peak season when queues can build up.
The company offer a range of packages from a Basic package offering a full to empty fuel policy and minimal insurance, to an insurance inclusive deal.
Cars tend to be pretty new - the company rely on the manufacturers car breakdown package - so it would be unusual for a car to be more than 3 years old.
Those renting from SolMar are looking for a competitive package and are prepared to take a little longer in terms of getting away from the airport at the start of their break. They also know that they will get an approach to prepay for a tankful of fuel or upgrade insurance at the desk. Providing this is you you are likely to be a happily satisfied customer, but if not consider a premium in terminal company.
If paying at the desk do ask to pay in Euros - rather than £ sterling, as the locally applied exchange rate by SolMar is not normally as favourable as that you will get from your credit card company.
Branch Information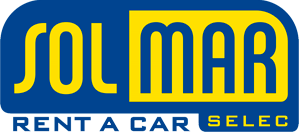 Address
Alicante Airport
CRTRA. AEROPUERTO-TORRELLANO S
ALICANTE
03320
Opening Times
Mon
08:00
until
Mon
22:00
Tue
08:00
until
Tue
22:00
Wed
08:00
until
Wed
22:00
Thu
08:00
until
Thu
22:00
Fri
08:00
until
Fri
22:00
Sat
08:00
until
Sat
22:00
Sun
08:00
until
Sun
22:00



Out of hours may be possible for an additional charge, please run a quote to check availability.
Transfer Details
Meet the Solmar Shuttlebus on Floor -2. You need bus stop No 27, 28, or 29. Any issues give the Solmar team a call on the number provided.
To ensure the company are fully aware of your arrival time please do ensure you provide a flight number.