Firefly
Firefly Car Hire at Athens International Airport
There are so many places to visit with your car hire from Athens airport. In just under an hour you could be crossing the Corinth Canal. From here you can explore the Peloponnese peninsula. Visit the beautiful village of Nafplio or walk amongst the ancient ruins at Mycenae or Epidaurus. A longer drive of just over two hours will take you to Delphi home of the Temple of Apollo. The Temple of Tholos here is one of the most photographed spots in Greece. There is much to see in the city of Athens itself but a hire car gives you the liberty to discover so much more.
Firefly are part of the Hertz group providing budget car hire to those looking for lower priced car hire who are not concerned with having the newest cars or facing a queue at the desk. Their cars generally have more miles on the clock because they are kept for longer. They are a reputable company but you may find they are more persistent with trying to sell their own insurance at the desk.
At Athens airport Firefly customers will need to make their way to the rental desk which is located in the Airport car park. If noone is at the desk there is a telephone there where you can contact them. If you wish to reduce the excess liability which comes with the standard package from Firefly then the Super Excess Waiver package is an option. Firefly can supply numerous different extras to their customers and these should be reserved on booking.
Branch Information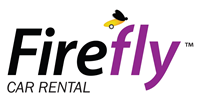 Address
Athens International Airport
International Airport Eleftherios Venizelos
Spata Loutsa
19004
Opening Times
Mon
07:00
until
Mon
23:00
Tue
07:00
until
Tue
23:00
Wed
07:00
until
Wed
23:00
Thu
07:00
until
Thu
23:00
Fri
07:00
until
Fri
23:00
Sat
07:00
until
Sat
23:00
Sun
07:00
until
Sun
23:00



Out of hours may be possible for an additional charge, please run a quote to check availability.
Details
Firefly Car Rental are the budget branch of the Hertz Car Rental international car hire company. This brand are primarily aimed at leisure renters who are not looking for the newest models of vehicles for their trip, the prices reflect this making them an ideal choice for those not looking for an expensive car hire but wanting to go with a big brand name. Most of the office are off airport being reached by a shuttle bus service provided by Firefly.
Transfer Details
Customers who arrive at Athens Airport can either:
Go directly to the FireFly desk at the Airport Car Park Area, where if unattended they will be able to communicate with our personnel through the dedicated telephone device located at the desk.
Alternatively, upon their arrival in terminal, they can contact by telephone (0030 698 019 5319 / 0030 211 1030660). This call will be answered by our employees, who will immediately meet and serve the customers.