Firefly
Firefly Car Hire at Bologna Airport
Bologna is the capital city of the Emilia-Romagna region. It is actually Europe's oldest university town - the university dates from 1088. Home to such culinary favourites as Parma ham. parmesan cheese and balsamic vinegar, it is definitely a destination for food fans! Indeed with a hire car you can visit plenty of food based tourist attractions in the local area. Ever fancied truffle or mushroom hunting? How about a tour of a parmesan factory? And there are several vineyards in the region too. For those who like their fast cars, there are museums dedicated to Ferrari. Maserati and Lamborghini not too far away.
Firefly are the budget section of Hertz car hire. They offer a cheaper alternative with an older fleet of cars but with the backing of a reputable brand. Value car hire with the support of a large car hire network may make this the preferred choice for many. As a budget firm, customers may find that there is more talk at the counter about buying additional insurance or extras. The Firefly counter at Bologna airport is easy to find right at the front of the arrivals hall. Please remember to check your car rental voucher before you leave for any specific instructions from Firefly for your pick up.
Firefly customers can choose to upgrade their Standard car hire package in order to include optional extras. The Glass and Tyre cover offers additional protection in case these areas are damaged. Child car seats, GPS units, snow chains and additional drivers can all be included with a car hire in order to tailor it the individual requirements. Bear in mind that child seats may be limited so do not delay in requesting one if you need it.
Branch Information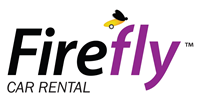 Address
Bologna Airport
Aeroporto di Bologna
Via del Triumvirato, 84
Bologna
Italy
40132
Opening Times
Mon
08:00
until
Mon
23:00
Tue
08:00
until
Tue
23:00
Wed
08:00
until
Wed
23:00
Thu
08:00
until
Thu
23:00
Fri
08:00
until
Fri
23:00
Sat
08:00
until
Sat
23:00
Sun
08:00
until
Sun
23:00



Out of hours may be possible for an additional charge, please run a quote to check availability.
Details
Firefly is the family focused, budget branch within the Hertz brand, which offers you higher mileage vehicles, but still of good quality. They are the optimal choice for those customers who are looking for a low cost car rental with a big, reputable brand within Italy.
Transfer Details
The rental area is just in front of the Arrivals Hall, here you can found the rental counter.