Locauto
Locauto Car Hire at Bologna Airport
Bologna is an underrated city in Italy, Usually missed out of many travellers' itineraries in favour of Rome, Milan or Venice, Bologna is a city that oozes culture and flair. It is the capital of the Emilia-Romagna region and a city which is world famous for some of its produce. There are not many who haven't heard of parmesan cheese, parma ham or balsamic vinegar. There are therefore plenty of restaurants in the city where you can sample some of this wonderful local food. If you can, try browsing through the Piazza Maggiore with its arched colonnades. Here there are many cafes lining the square and fine examples of medieval and renaissance architecture to admire while you are enjoying your meal.
Locauto pride themselves on their experience in car hire in their home country. As a local firm they can offer great support with your car hire, a plus to this company which can make them a good choice for any trip to Italy. They have a reasonably large fleet, with various sizes for their customers to choose from. Their emphasis is on providing good quality car hire. Bear in mind that excesses in Italy can be high so you may want to consider additional protection or a waiver product. As a mid-range company Locauto are a popular choice.
Locauto customers can choose from 3 different car hire packages. The Standard package can be upgraded to the Car Body Protection Plus and thereby waiving the excess. The security deposit will still be taken though. Look out for special offers which can included snow chains and unlimited mileage deals. The Deluxe package lowers the security deposit requirement. Optional extras for all packages include child seats, additional drivers, wifi units and GPS devices.
Branch Information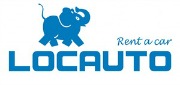 Address
Bologna Airport
Aeroporto Guglielmo Marconi
Bologna Guglielmo Marconi Airport
Via del Triumvirato, 84
Bologna
Italy
40132
Opening Times
Mon
08:00
until
Mon
23:00
Tue
08:00
until
Tue
23:00
Wed
08:00
until
Wed
23:00
Thu
08:00
until
Thu
23:00
Fri
08:00
until
Fri
23:00
Sat
08:00
until
Sat
23:00
Sun
08:00
until
Sun
23:00



Out of hours may be possible for an additional charge, please run a quote to check availability.
Details
Locauto is an Italian company, with a lot of experience in the car hire sector. They offer rentals across Italy for both short and long term. With a sizeable fleet of vehicles and many locations country-wide they make an ideal choice for holidaymakers and business people alike.
Transfer Details
Once you exit the Arrivals area of the airport, keep walking and you will soon find the Locauto office on the left hand side. The rental vehicles for Locauto are just a few meters away from the terminal, within the car park.