Firefly
Firefly Car Hire at Bordeaux Airport
Bordeaux is central in France's popular wine growing region so an ideal place to airport to pick up a hire car if you are going to explore this area. Bordeaux itslef is stunning with its impressive gothic cathedral and wide array of notable museums to choose from. The Musee des Beaux-Arts houses many paintings by some of the most well-known European artists. Much of the centre of the city has been pedestrianised making it wonderful for strolling through on a warm evening. There are many brand new buildings too such as the Herzog & de Meuron stadium and the Jean-Jacques Bosc bridge which spans the Garonne river.
Firefly are the budget arm of Hertz car rental so they are part of a large well-known brand. This can be reassuring for those customers looking for security with their car hire. They offer an extensive range of cars at lower prices but the vehicles may therefore be a little older with more miles on the clock. Being a reputable company, clients can still expect the cars to be in good condition.
Firefly are located at Bordeaux airport, outside in the car park used by all the car hire firms. They are in aisle M1. The office here is where you can sort out your paperwork and pick up your keys. Firefly various extra packages including breakdown, Glass and Tyres cover and a Super Cover excess waiver. Customers can choose to reserve child car seats, GPS units or Mobile Wifi.
Branch Information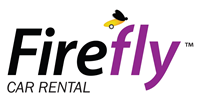 Address
Bordeaux Airport
Aéroport de Bordeaux-Merignac
33700
Opening Times
Mon
09:00
until
Mon
20:00
Tue
09:00
until
Tue
20:00
Wed
09:00
until
Wed
20:00
Thu
09:00
until
Thu
20:00
Fri
09:00
until
Fri
19:00
Sat
09:00
until
Sat
19:00
Sun
11:00
until
Sun
19:00



Out of hours may be possible for an additional charge, please run a quote to check availability.
Details
Firefly are the budget branch within the Hertz brand, they offer higher mileage cars for a lesser price than Hertz. If you are looking for a low cost car rental with a big, reputable brand this could be the optimal choice for you. They are great for families looking for a hire car without paying a big premium!
Transfer Details
Firefly location is located outside in the car park dedicated to car rental companies, in aisle M1. Please proceed here to pick up your rental agreement and car keys.