Prepaid Currency Cards and Car Hire
Prepaid Currency Cards and Car Hire
Prepaid Currency Cards cannot be used to 'preauthorise' your deposit at the car hire desk, even if you have sufficient money on the card to cover the required deposit.
This is because the cards are not designed to allow card accepters, such as the car hire firms, to reserve real money on your account. The only way would be for the car rental desk to remove real cash from your card giving the company both security issues and extra costs in terms of their bank charges.
There are, however, three ways you can use the cards:
To pay the small initial deposit Clarify charge when you place your booking - but unless you are a non UK national you are not likely to want to do that as we will bill you in £ sterling.

To pay the bill for the car hire when you return the car. Ask at the desk whether they will take the payment from your prepaid card rather than use the credit card you will have handed over to preauthorise your deposit. Most companies will do this - although to make sure check when you collect the car.

Those who wish to make sure they are not hit with an unexpected extra bill as a result of exchange rates moving. You can place the amount you know you will be paying your car hire firm in, for example, euros or dollars onto your currency card at the time of booking so you know you have already 'fixed' your rate. You can then use the card as in (2) above, or use the funds elsewhere during your holiday , and pay for the car hire on your credit card. If using a credit card do make sure sure yours is a Credit Card which charges no foreign transaction fees.
How can I get a currency card
Two of the biggest currency card providers in the UK are Caxton and FairFX. Both offer good rates and offer protection for up to £75,000 on any money on your card.
Fairfax tend to have very slightly better rates but, if you are going to want to make a number of ATM withdrawals, it is worth thinking about Caxton as they do not charge for them in the currency area of the card. (You could however still be charged by the cashpoint machine owner - particularly in the US)
For more information click on the cards below to visit their websites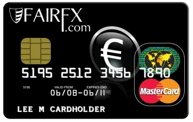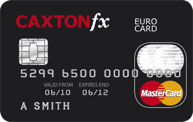 If you would like more help do talk to the Clarify team.