Firefly
Firefly Car Hire at Carcassonne Airport
Situated in the Languedoc region, Carcassonne is a fascinating city. Its double walls are world famous, built originally in the Roman era and then extended in later centuries. The castle within the city walls was constructed in the 12th century. Carcassonne has quite a fairy tale feel to it and has been a Unesco World Heritage Site since 1997. The city is the second most popular tourist destination in France after the Eiffel Tower in Paris. Within easy driving distance are the cities of Toulouse and Montpelier on the coast.
Firefly are part of the well-known group headed by Hertz. They aim at the budget end of the market so the cars tend to perhaps be a few years older than those provided by Hertz. However we would still expect them to be in a reasonable condition. If you are looking for car hire that offers good value for money then Firefly may appeal to you but do be aware that in high season there can sometimes be a wait at the desk.
Firefly at Carcassonne airport are situated just a short distance from the terminal building. Follow the signs for Firefly to their office cabin in the car rental area. Customers have the option of taking out Firefly's own Super Cover which waives the excess on the car hire insurance. There is a breakdown package and Glass and Tyres Cover through Firefly too. It is also possible to book child car seats, GPS units and Mobile Wifi.
Branch Information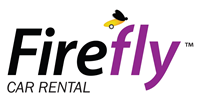 Address
Carcassonne Airport
Aéroport de Salvaza
Carcassonne
11012
Opening Times
Mon
09:00
until
Mon
18:00
Tue
09:00
until
Tue
18:00
Wed
09:00
until
Wed
18:00
Thu
09:00
until
Thu
18:00
Fri
09:00
until
Fri
18:00
Sat
09:00
until
Sat
18:00
Sun
09:00
until
Sun
18:00



Out of hours may be possible for an additional charge, please run a quote to check availability.
Details
Firefly are the budget branch within the Hertz brand, they offer higher mileage cars for a lesser price than Hertz. If you are looking for a low cost car rental with a big, reputable brand this could be the optimal choice for you. They are great for families looking for a hire car without paying a big premium!
Transfer Details
From the terminal, follow the Firefly signs. The Firefly cabin is situated in the car rental area outside the terminal. Please proceed here to pick up your rental agreement and car keys.