Mex Rent A Car
Mex Rent A Car at Gdansk Airport
A city not to be dismissed, Gdansk is a fascinating port looking out on to the Baltic coast. Along with Sopot and Gdynia it makes up the Tri-city area. This is a region which offers some beautiful scenery, historic architecture and underrated beaches. In Gdansk, a walk along the length of Dlugi Targ is a fine way of spending the day ending up at the waterfront. Your hire car from Gdansk airport is the ideal way of travelling between the three cities to enjoy all they have to offer.
When booking with Mex you will be met in Arrivals by one of their representatives. Look out for your name. There is a telephone number for Mex which will be on your voucher should you need to contact them when you have landed at Gdansk airport. You will be offered a choice of low prices vehicles from a fairly wide and modern fleet when opting for Mex Rent a Car. The cars themselves are parked in car park P1 just a short walk from the terminal building.
Extras available with Mex are quite limited so, if you do need child seats for example, make sure they have what you need or bring your own. The good news is that the price of what they do offer is low compared with other car hire companies. If you are looking for good value that provides a decent basic service then Mex will suit you fine.
Branch Information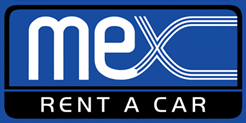 Address
Gdansk Lech Walesa Airport
Gdansk Lech Walesa Airport
Gdansk U Slowackiego 195
Gdansk
80-298
Opening Times
Mon
00:00
until
Mon
23:59
Tue
00:00
until
Tue
23:59
Wed
00:00
until
Wed
23:59
Thu
00:00
until
Thu
23:59
Fri
00:00
until
Fri
23:59
Sat
00:00
until
Sat
23:59
Sun
00:00
until
Sun
23:59



Out of hours may be possible for an additional charge, please run a quote to check availability.
Transfer Details
Please look for our representative who will be waiting for you holding a MEX board with your name written. The car will be delivered in the P1 car park, 50 meters away from the exit of the arrivals terminal. If needed, please call (+48)798 944 344 for assistance.