Locauto
Locauto Car Hire at Genoa Airport
Genoa is such an underrated location for exploring Italy in our opinion. Not only is it a fantastic city in its own right but it is within a 3 hour drive of so many wonderful Italian cities. Florence, Turin, Milan and Pisa are all less than a three hour drive from Genoa. If you have included cross border with your car hire, Nice in France is also a similar distance away along the coast. Many people come to this area to visit the Cinque Terre ports, a set of 5 old fishing village which teeter on the cliffs offering picture postcard sights. Stay in Genoa and enjoy the elegant palazzi including Palazzo San Giorgio which used to house the world's very first bank back in the 1400s. Dine out at one of the many restaurants offering Ligurian specialities.
Locauto offer quality car hire at reasonable prices, They are a mid range supplier so their vehicles whilst in good condition may not be the latest models or be brand new. They are an Italian firm so it is safe to say they know their market when it comes to Italian car hire. Their fleet is pretty large so customers do have a good choice and they cater for both business and leisure travellers. The Locauto desk is on the left hand side of the terminal building as you come through arrivals. The cars are kept on site so no shuttle bus is required.
If you hire with Locauto you can tailor your package to your requirements. To reduce your excess opt for the Car Protection Plus package (there will still be a security deposit but this is much lower than the excess). If you need to use car hire but only have a debit card there is an exclusive package with Locauto which will enable this. GPS units, child seats and snow chains are all extras available through Locauto.
Branch Information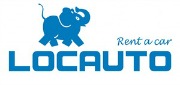 Address
Genoa Airport
Via Pionieri E Aviatori D'italia
44 Genoa
16154
Opening Times
Mon
07:30
until
Mon
23:00
Tue
07:30
until
Tue
23:00
Wed
07:30
until
Wed
23:00
Thu
07:30
until
Thu
23:00
Fri
07:30
until
Fri
23:00
Sat
07:30
until
Sat
23:00
Sun
07:30
until
Sun
23:00



Out of hours may be possible for an additional charge, please run a quote to check availability.
Details
Locauto is an Italian company, with a lot of experience in the car hire sector. They offer rentals across Italy for both short and long term. With a sizeable fleet of vehicles and many locations country-wide they make an ideal choice for holidaymakers and business people alike.
Transfer Details
After leaving the Arrivals Hall, keep walking and you will see the Locauto desk on the left hand side of the airport terminal. Locauto's car park is located just outside the terminal, a few meters walk from the counter.