Drive-A-Matic
Drive-A-Matic Car Hire at Grantley Adams International Airport
Barbados is a wonderful island and one of the best to explore independently. A hire car is ideal for getting around and seeing the sights of Barbados. As part of the British Commonwealth, some of the surroundings in Barbados can seem very familiar to UK residents. There are cricket greens and Anglican churches nestled not far from glorious beaches. A plantation - part of the sugar can industry history - is also well worth a visit.
Drive-A-Matic have a desk in the Arrivals hall at Grantley Adams International Airport where you can collect the keys to your car and finalise the paperwork. They will let you know where your vehicle is located. They have a good range of vehicles including jeeps and vans.
Drive-A-Matic have offices across the Caribbean. Reviews suggest they do not always have the speediest customer service but it is generally of a high standard. Cars are usually in good condition. They offer their own excess reduction insurance if required, and request an unlimited mileage contract if you are likely to do a lot of driving.
Branch Information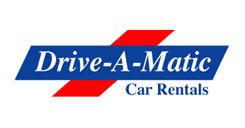 Address
Grantley Adams International Airport
Grantley Adams
International Airport
Christ Church
Barbados
Opening Times
Mon
07:30
until
Mon
21:00
Tue
07:30
until
Tue
21:00
Wed
07:30
until
Wed
21:00
Thu
07:30
until
Thu
21:00
Fri
07:30
until
Fri
21:00
Sat
07:30
until
Sat
21:00
Sun
07:30
until
Sun
21:00



Out of hours may be possible for an additional charge, please run a quote to check availability.
Details
Drive-A-Matic operate across the Caribbean and have a wide range of vehicles across Barbados. They offer high quality customer service and are a welcoming car hire firm to greet you in Barbados! Their fleet includes cars, jeeps and vans, meaning you can make the most of your trip to this beautiful country!
Transfer Details
Due to current protocols, vehicle pick-up is not permitted immediately on arrival to the island. This is a temporary measure, mandated by the Government, as travellers are required to quarantine on arrival. Once clients have received a negative COVID-19 PCR test result, their rental vehicle can be delivered to their accommodation. Clients must therefore contact the office at (246) 434-8440 after receiving their results in order to reschedule delivery.
The Drive-A-Matic Car Rentals desk is located in the Arrivals Hall of Grantley Adams International Airport. Once you have collected your luggage, proceed to the Arrivals Hall where you will see the desk and can pick up your rental contract and keys.