Firefly
Firefly Car Hire - Car Rental at Keflavik Airport - Shuttle Service
Firefly are a budget car rental firm based both close to the airport and also have a office in the capital Reykjavik. They offer the following advantages for those looking renting a car from Keflavik Airport.
They are based off airport, but very close to it. When arriving in Iceland you will see many rental firms based just outside the Airport, and some further afield. This is because the airport surcharge for picking up a car on airport is significant so many firms look to avoid it by providing a shuttle service for their customers. Firefly are one of the best located of the Off Airport companies..

They have one of the larger fleets amongst the budget firms. This provides great reassurance in peak times. Their cars are also more recent than some of the Icelandic fleets.

Currently although they will take a imprint of your credit card they do not currently take a preauthorisation. This is a boon for hirers who prefer not to have a large figure blocked on their card. This policy can change so do check the deposit amount shown for any car when you run a Clarify Car hire quote.
Firefly would like to remind hirers that:
They, along with most Icelandic rental firms, don't cover any damage caused by Volcanic Ash or Sandstorms unless you take a package which includes Sand and Ash Cloud Protection. In any event they recommend you avoid driving either either are expected.

The Underside, Wheel or Tyre are cover covered if they are damaged. It is not possible to buy optional cover for these elements either. If you would like to buy standalone excess insurance which costs only a couple of pounds a day to cover these areas please do contact the Clarify team.
Branch Information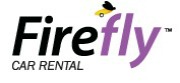 Address
Keflavik International Airport - Off Airport
Blikavellir 1
235 Keflavíkurflugvöllur,
Iceland
235
Opening Times
Mon
05:30
until
Mon
17:30
Tue
05:30
until
Tue
17:30
Wed
05:30
until
Wed
17:30
Thu
05:30
until
Thu
17:30
Fri
05:30
until
Fri
17:30
Sat
05:30
until
Sat
17:30
Sun
05:30
until
Sun
17:30



Out of hours may be possible for an additional charge, please run a quote to check availability.
Details
Firefly is the family focused, budget branch within the Hertz brand, which offers you a good quality fleet. They are the optimal choice for those customers who are looking for a low cost car rental with a big, reputable brand.
Transfer Details
Please go to the Firefly meeting point at the Hertz car rental, Hertz is located just after you clear customs in the Terminal building.
Firefly rental location is only 300 meters (approx. 350 yards) from Keflavik International Airport Terminal. Firefly offer a free shuttle service to/from the airport to their station in Bilkavellir 1, 235 Keflavíkurflugvöllur. Please provide your flight details in the booking process.