Kem Cars
Larnaca airport Car Hire with Kem Cars
Larnaca city is situated on the south coast of the stunning island of Cyprus in the Mediterranean Sea. The town while charming with its whitewashed buildings and shuttered windows, is not the main draw of Larnaca. This is its seafront lined with palm trees. The beach is the place to hang out in the daytime and when evening comes, the promenade provides a wonderful walk. Along it you will find many eating places to choose from where you get a marvellous view across the water. With Larnaca as your starting point, your hire car will get you to many other idyllic settings across the island.
Kem Cars hire out vehicles that are often older than those you might expect to see with more premium brands but the price reflects this. It is a good idea to consider excess insurance either with Kem Cars, through Clarify or your own independent cover. Customers may also find that there are longer queues to collect their vehicle. Kem cars are unusual compared with other Cypriot car hire companies as they will allow travel into Northern Cyprus. Please let them know if this is your intention. Kem Cars will meet you at Larnaca airport and escort you to where you can take the shuttle bus which will transport you to their offices just 500 metres away.
If booking with Kem Cars, it is possible to add not just insurance but also child car seats and additional drivers.
Branch Information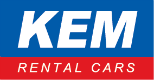 Address
Larnaca Airport
Airport Loop
Dromolaxia
Opening Times
Mon
00:00
until
Mon
23:59
Tue
00:00
until
Tue
23:59
Wed
00:00
until
Wed
23:59
Thu
00:00
until
Thu
23:59
Fri
00:00
until
Fri
23:59
Sat
00:00
until
Sat
23:59
Sun
00:00
until
Sun
23:59



Out of hours may be possible for an additional charge, please run a quote to check availability.
Details
It is true to say that the feedback we receive regarding Kem Cars is that their cars are on the old side, and that excess insurance is a must. However they are unusual in that they allow cars to be taken into Northern Cyprus (subject to conditions), so if that's the plan they are worth considering
Transfer Details
On your arrival at Larnaca Airport make your through to the front of the terminal where you will be met by one of the Kem Cars team. They will then escort you to the shuttle bus for the quick transfer to their offices 500 metres away.