Firefly
Madrid Airport Car Hire with Firefly
Madrid is a captivating city with much for any visitor to absorb. Visit any of the numerous museums and art galleries such as the Museo del Prado or the Museo Thyssen-Bornemisza where many great masterpieces are on display. Plaza Mayor is a popular meeting place for visitors to the city. This square is surrounded by restaurants, cafes and shops to browse around. It can get very busy particularly in peak season. Spanish food is delightful. Experience authentic tapas in a local bar or sample some of the wonderful seafood dishes at one of the superb eateries in the heart of the city. Your hire car gives you the freedom to explore outside the city too so how about Toledo or Segovia, both well worth a visit?
Firefly are considered the budget car hire company of the Hertz group. Customers can still expect a car of decent quality but just perhaps not as new as those of the Hertz own brand. With lower headline prices, Firefly can be more keen to sell their extras including their own excess insurance packages. If you wish to avoid the pushier salesperson at the desk then Firefly may not be for you. On the other hand being part of a major car hire brand has its benefits.
There is a Firefly desk in Terminal 1 at Madrid Airport. After leaving the baggage claim hall, use the escalators to take you up to the departures floor. The Firefly desk is opposite the airline check in desk 222. The cars themselves are parked at the front of the terminal building on the arrivals floor.
For Terminal 4, leave the baggage claim hall and head to floor -1 of the arrivals hall. Leave the terminal building through the glass doors and follow the signs for Car Rental Returns. You will need to cross over the street to reach the parking area. When you enter, turn right. The Firefly office is located in parking space 901.
If you arrive at Terminals 2 or 3, head for Terminal 1 after you exit the baggage claim hall to the desk there and proceed as above.
Branch Information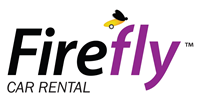 Address
Madrid Airport
Aeropuerto Adolfo Suarez
Parking Terminal 1
28042
Opening Times
Mon
08:00
until
Mon
23:59
Tue
08:00
until
Tue
23:59
Wed
08:00
until
Wed
23:59
Thu
08:00
until
Thu
23:59
Fri
08:00
until
Fri
23:59
Sat
08:00
until
Sat
23:59
Sun
08:00
until
Sun
23:59



Out of hours may be possible for an additional charge, please run a quote to check availability.
Transfer Details
All reservations will be catered to at the Hertz car hire desk in Terminal 1 at Madrid Airport. Please proceed here to collect your vehicle. Once you arrive at Terminal 1, exit the terminal. Cross the street towards the parking lot in front of the terminal building. The Firefly office is located just to the side of the pedestrian crossing.