Autos Lido
Malaga is best known for its array of golden sandy beaches and the many bars and restaurants available to all its visitors. But delve a little deeper and you will discover that Malaga can offer so much more. Museums and art galleries, a wonderful shopping district and an interesting history giving rise to some splendid buildings. Take your hire car to explore further along the coast to other, perhaps less crowded, beaches or try inland to visit some of the other fascinating cities and towns of the area. You can even spend time in the mountains. A real contrast to the coast!
Autos Lido are a car hire supplier who are known for offering a very friendly service. They are perhaps not the cheapest, despite not having the newest cars, but queues at the desk are often shorter than at those of the more budget brands so this may appeal to you, particularly after a flight. Autos Lido offer their own excess waiver package known as the Comfort Package and a fair fuel policy comes with that.
The Autos Lido desk is located off airport. A shuttle bus will take you the short distance from the terminal to the Autos Lido building which only takes 3 minutes. It is a free shuttle service and please consult your car hire booking paperwork for instructions on where to meet the bus. Autos Lido have been operating for over 40 years in Malaga so have a lot of experience in providing high quality service to their customers.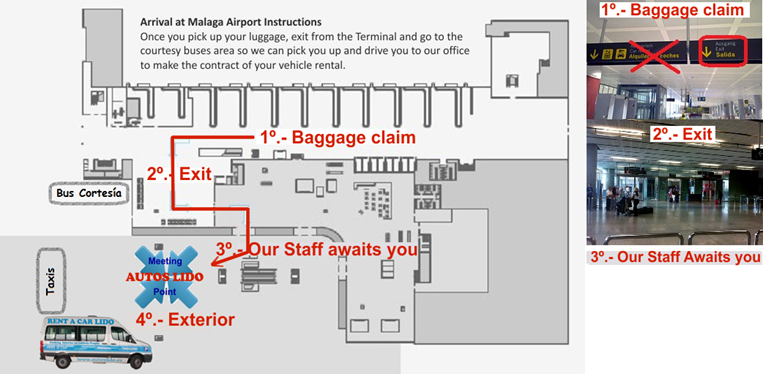 Branch Information

Address
Malaga Airport
Avenida comandante García morato nº48
29004
Opening Times
Mon
08:00
until
Mon
23:59
Tue
08:00
until
Tue
23:59
Wed
08:00
until
Wed
23:59
Thu
08:00
until
Thu
23:59
Fri
08:00
until
Fri
23:59
Sat
08:00
until
Sat
23:59
Sun
08:00
until
Sun
23:59



Out of hours may be possible for an additional charge, please run a quote to check availability.
Details
Autos Lido has over 40 years of history in the car hire in Malaga and have offices close to the airport and train station. As one of the first car rental firms in the area they have a long history in the business, and achieve some of the highest service rating of any companies operating in the area.
Transfer Details
The main office is located in Autos Lido building, 300 metres, as the crow flies, from the airport terminal. There is a free shuttle bus for customers which takes only 3 minutes to transport hirers and their luggage to and from the terminal.