Centauro
Malaga Airport Car Hire at Centauro
Malaga has plenty of places to explore, making it the ideal place to have a hire car as you can work on your own schedule and go where you want to, when you want to. With both Malaga to explore and the many beaches the region has to offer, there is no lack of things to do!
Centauro are located off the airport's site, and so you will need to take a shuttle bus to get to their office. Once you have collected your luggage, continue on the same floor to the terminal exit, here you will be able to meet a Centauro member of staff who will direct you to the shuttle bus station. Alternatively, you can make your own way to the shuttle bus parking area which is located outside of the terminal building, 100m to the right once you exit, here you will be able to wait for the bus to take you to Centauro's desk.
There are a number of packages offered by Centauro, these are Basic, Comfort and Premium. With Basic offering a Full-Empty Fuel Policy, no express check in and insurance with excess all the way up to Premium which includes a Full-Full Fuel Policy, express check-in and full insurance without excess.
They also offers extras such as car seats and GPS devices, should you require these to make your trip more comfortable.
Those who choose to rent with Centauro are open to getting the shuttle bus to the office because of the competitive deal the company offer. The customers that choose to go with them are prepared to be approached and offered their own car hire excess insurance and different fuel policies. If you are aware that you may experience this then you are likely to be a satisfied customer with them.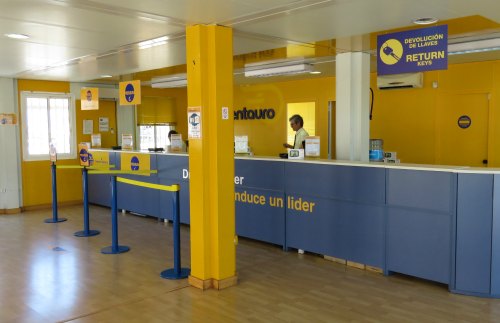 Branch Information

Address
Malaga Airport
C/ de Pascal, 30
Pol. Ind. Villa Rosa
Málaga
Málaga
29004
Opening Times
Mon
07:00
until
Mon
22:59
Tue
07:00
until
Tue
22:59
Wed
07:00
until
Wed
22:59
Thu
07:00
until
Thu
22:59
Fri
07:00
until
Fri
22:59
Sat
07:00
until
Sat
22:59
Sun
07:00
until
Sun
22:59



Out of hours may be possible for an additional charge, please run a quote to check availability.
Details
Centauro are a great choice when it comes to Malaga car hire. They are based very close to the airport, and run an efficient shuttle service which will whisk you to their air conditioned offices nearby. This is low cost car hire with quality built in.
Transfer Details
Once you have collected your luggage, come out of the terminal building on the same level and turn left, follow the indications to the courtesy shuttle bus area where you can wait for the Centauro Rent a Car Shuttle which comes every 10/15 mins.