Del Paso
Malaga Airport Car Hire with Del Paso
Malaga is a popular destination for travellers with its friendly locals, beautiful beaches and plenty of welcoming bars and restaurants. Not forgetting the shopping too! Car hire in Malaga will give you the opportunity to explore this delightful location.
Del Paso can be found on the airport site with a shuttle bus taking you the three minute drive to where the cars are located. The terminal exit is on the same level as the baggage reclaim area. So when you have gathered all your belongings,head for the exit following any signs to the shuttle bus area. Turn right outside the building and it should be about 100m ahead of you. Look out for the Del Paso bus which will take you to their office to sort out your paperwork.
With Del Paso there are three different car hire packages available giving customers a good choice. The Basic offers insurance with an excess and a prepurchased with refund fuel policy. The Flex Pack adds cover for damage to tyres and windscreens and a full to full fuel policy. The All Inclusive package also covers damage to further areas of the car, insurance valid for driving in Portugal and Gibraltar, an additional driver and insurance without an excess.
Child seats, additional drivers and MiFi can all be added as extras if you require them. So too can a GPS although these are added free on some cars where the All Inclusive pack is selected.
Del Paso are a very friendly company with a high level of customer service offering vehicles at competitive rates. Bear in mind that they tend to offer newer models so any slight scratches will not be missed. You may want to consider buying excess insurance in advance. If you have not purchased the All Inclusive package, it is likely you will be offered Del Paso's own excess waiver at the desk.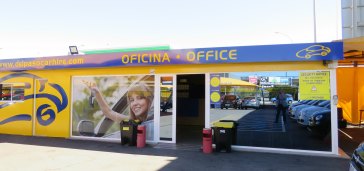 Branch Information

Address
Malaga Airport
Avenida de Velazquez 290
Malaga
29004
Opening Times
Mon
08:00
until
Mon
23:00
Tue
08:00
until
Tue
23:00
Wed
08:00
until
Wed
23:00
Thu
08:00
until
Thu
23:00
Fri
08:00
until
Fri
23:00
Sat
08:00
until
Sat
23:00
Sun
08:00
until
Sun
23:00



Out of hours may be possible for an additional charge, please run a quote to check availability.
Details
Del Paso offer very cheap car hire in Malaga and operate a range of the most popular modern vehicles. They are slightly off airport, on a service road off the N-340 / MA-21. Be aware that, to keep prices low, they can charge heavily if there is any damage however slight to the rented vehicle. Therefore we highly recommend excess insurance is taken when renting with Del Paso.
Transfer Details
Pick up procedure:
After collecting your luggage please proceed to the arrivals hall (do not go downstairs), once outside the terminal please go to the bus station that will be straight in front of you, once there turn left and after 100 metres you will find the Del Paso rep waiting for you at the courtesy bus stop. Please give Del Paso a ring on 0034 673 249 000 if you are unable to find the Del Paso staff member. Customers arriving after 23:00 will need to call 0034 673 249 000 so that Del Paso can come and pick you up.