Firefly
Firefly Car Hire at Olbia Airport
Olbia is a coastal city on the northeast coast of Sardinia. It is a fantastic starting point for any trip to this beautiful island. At the heart of the city you will find the Piazza Matteotti which has an array of cafes around it - a wonderful place for a breather before embarking on a tour of the city. It is only a small city so many people do not linger in Olbia but instead head for the many resorts further along the coast. The Costa Smerelda is a chain of expensive seaside resorts within an easy drive and from Olbia it is easy to get to the charming city of Alghero.
Firefly have become widely known as they are part of the Hertz brand. They operate as a budget supplier so their cars may be a little older than the sister company. Although quotes may be cheaper from Firefly, bear in mind that they are likely to be keen to sell you their additional packages. This can mean queues move much more slowly. If this doesn't bother you and you want a great price then Firefly may be your preferred choice.
Customers of Firefly can opt to add Glass and Tyres cover to their car hire. If you are travelling to Olbia with young children you may need to reserve car seats - various sizes are available. GPS units and snow chains are also an option.
Branch Information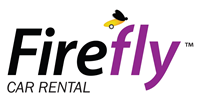 Address
Olbia Airport
Aeroporto Olbia Costa Smeralda
Via dei Maniscalchi, snc
07026
Opening Times
Mon
08:30
until
Mon
23:00
Tue
08:30
until
Tue
23:00
Wed
08:30
until
Wed
23:00
Thu
08:30
until
Thu
23:00
Fri
08:30
until
Fri
23:00
Sat
08:30
until
Sat
23:00
Sun
08:30
until
Sun
23:00



Out of hours may be possible for an additional charge, please run a quote to check availability.
Details
Firefly is the family focused, budget branch within the Hertz brand, which offers you higher mileage vehicles, but still of good quality. They are the optimal choice for those customers who are looking for a low cost car rental with a big, reputable brand within Italy.
Transfer Details
From the Arrivals Halls head to the car park in front of the airport and on your left you will find the sign "Shuttle Bus Firefly". Call 0039 3929777752 if you need assistance. The shuttle bus will take about 5 minutes to get to the Firefly counter from the airport.