Firefly
Firefly Car Hire at Palermo Airport
Palermo is the capital of the island of Sicily. Although part of Italy it has its own unique personality and culture. There are some beautiful buildings in the city including the 12th century Palermo cathedral and the Teatro Massismo. Take a carriage tour if your legs get weary - it's a great way of seeing all the sights, including the many palaces, in comfort! Street food is something that is very common in Palermo. Many of the local markets have food stalls. Seafood is a speciality. Get away from Palermo in your hire car. The impressive Etna is good for a day out. Visit the Valley of the Temples near Agrigento or how about a relaxing day at one of the many local spas? There are also plenty of places to play golf too.
Firefly are a budget car hire supplier, part of the same group as Hertz. They are able to offer lower priced car hire as their fleet is a little older but as a consequence they are also more likely to give you a thorough description of their additional insurance products that are available. They are a good, reputable company but as they are a low cost option you may discover that you have to wait a little longer for your pick up service. The Firefly desk at Palermo airport is within the car rental area. Follow the signs as you pass through arrivals. Please read your voucher for any specific instructions for your hire.
Firefly can offer a range of extras such as child car seats, satnavs and wifi. They also offer top up insurance options if you want to reduce the excess or have extra peace of mind but, be aware that these are usually voluntary insurances. Ask for an explanation at the desk if you are not sure.
Branch Information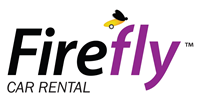 Address
Palermo Airport
Aeroporto di Palermo Falcone e Borsellino
Località Punta Raisi
Cinisi PA
Italy
90145
Opening Times
Mon
08:00
until
Mon
23:59
Tue
08:00
until
Tue
23:59
Wed
08:00
until
Wed
23:59
Thu
08:00
until
Thu
23:59
Fri
08:00
until
Fri
23:59
Sat
08:00
until
Sat
23:59
Sun
08:00
until
Sun
23:59



Out of hours may be possible for an additional charge, please run a quote to check availability.
Details
Firefly is the family focused, budget branch within the Hertz brand, which offers you higher mileage vehicles, but still of good quality. They are the optimal choice for those customers who are looking for a low cost car rental with a big, reputable brand within Italy.
Transfer Details
From the Arrivals Hall go to the Rent-A-Car area by following the signs.