Palermo Airport
Palermo Airport Car Hire
Palermo Airport (or as it's called locally Aeroporto di Palermo Falcone e Borsellino) is one of Sicily's two major airports. It serves the north and west of the island as well as the major city it is near to. Car hire from Palermo is very popular as public transport is limited and, unless you are on a prearranged tour or on a city break to Palermo itself, it's really the only way to explore the coast and countryside. It has attractions such as Cefulu to the east, Monreale which overlooks the city and is a great place to relax and reflect for an hour or two, or the area around Marsala, home to Sicily's wine country. From the airport you take the SS 188 to Marsala Here you can really get away from it all travelling along roads surrounded by gently rolling hills covered in vineyards stretching away to the horizon.
Where are the car hire desks at Palermo Airport?
The most important thing to do is to follow the instructions on your rental documents. It will also depend on whether you have chosen an on airport supplier or one which is based off airport a short walk away.
The on airport car hire companies can be quickly found by hopping on the shuttle that runs to and from the nearby car hire area in the airport. All on airport companies are based there. Rental car parking is located just a few metres away, adjacent to the car rental firms offices.
We also have an off airport car hire supplier at Palermo, where you approach the information desk in the arrivals hall, and call the company. They will send a shuttle to collect you, and it's about a 10 - 15 minute drive away depending on traffic.
Where can I collect/drop off my hire car at Palermo Airport?
The on airport car hire car park is next door to the car hire offices.
To return your car, enter Palermo Airport and follow signs to the car rental area. Having had your car checked you hop back on a shuttle to the main Palermo Airport terminal.
If you are using the off airport company, return the car to the location you picked it up from and you will be dropped back to Palermo Airport.
Palermo Airport Top Tips
Palermo Airport is a modest operation and when a number of planes land at the same time (which tour operators tend to aim for as this allows them to operate their transfer systems effectively) car hire desk queues can build up. Send the driver on ahead to deal with the paperwork whilst the rest of the party collect the bags (making sure to leave any luggage receipts with them in case one has gone astray and needs reporting). Meet up at the car hire area to save the driver circling the one way system endlessly after they have collected the car.

The Palermo Airport website provides lots of flight and other local information if you want to research your destination before you arrive.
Map courtesy of www.gesap.it
---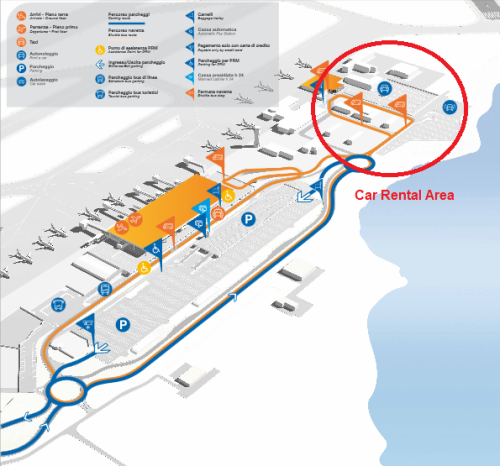 * Currently, the supply of green vehicles tends to be limited. Therefore, cars may not always be available when you search.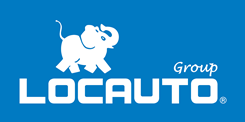 Opening Times
Tue
08:00
until
Tue
23:59
Wed
08:00
until
Wed
23:59
Thu
08:00
until
Thu
23:59
Fri
08:00
until
Fri
23:59
Sat
08:00
until
Sat
23:59
Sun
08:00
until
Sun
23:59
Mon
08:00
until
Mon
23:59
Locauto | Address
Palermo Airport
Via P. Borsellino
Cinisi
Italy


90045
Details
Locauto is an Italian company, with a lot of experience in the car hire sector. They offer rentals across Italy for both short and long term. With a sizeable fleet of vehicles and many locations country-wide they make an ideal choice for holidaymakers and business people alike.
Transfer Details
After you have exited the Arrivals Hall, stay to the right hand side and you will come to the Locauto office. After you have left the terminal building, you will need to wait on the sidewalk to get the free shuttle bus to get to the car park.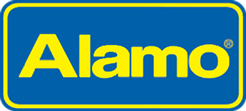 Alamo | Address
Palermo Airport
Via Aeroporto
Cinisi Palermo


90045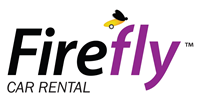 Firefly | Address
Palermo Airport
Aeroporto di Palermo Falcone e Borsellino
Località Punta Raisi
Cinisi PA
Italy
90145

Enterprise | Address
Palermo Airport
Via Aeroporto
Cinisi Palermo
90045

Opening Times
Mon
07:30
until
Mon
23:59
Tue
07:30
until
Tue
23:59
Wed
07:30
until
Wed
23:59
Thu
07:30
until
Thu
23:59
Fri
07:30
until
Fri
23:59
Sat
07:30
until
Sat
23:59
Sun
07:30
until
Sun
23:59
Hertz | Address
Palermo Ap
Punta Raisi
Palermo Ap (sicily)
90045
Details
Hertz Car Rental is a well known, international car hire company. This premium brand offers their customers new, high quality vehicles for a good value price. Hertz car hire counters are conveniently located within airport terminals, which gives renters a stress-free car hire experience.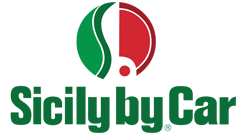 Sicily by Car | Address
Palermo Airport
APT P. Raisi Desk in the Departure Terminal
PALERMO
PA
90100

Centauro | Address
Palermo Airport
Contrada Feudo Orsa
Cinisi
Palermo




90045