Click Rent
Palma de Mallorca Airport Car Hire with Click Rent
Mallorca is a great holiday destination with beautiful beaches, bustling towns with numerous restaurants and pubs to keep all entertained, and cultural attractions in Palma. This is perhaps why many tourists flock to Mallorca during the summer months. There are so many wonderful places to visit and explore when on the island of Mallorca and this is why having a hire car can be so helpful, you are able to travel where you want, when you want!
Click Rent have a desk at Palma de Mallorca Airport, however this is located off the airport grounds. Due to this, a shuttle bus is used by the firm to transport customers between the airport and its office. Providing a flight number is essential for the company to make efficient arrangements at the airport. Customers should go to the 2nd Floor of the Airport and meet the Shuttle service which runs from just outside the Departures Area. This will transport you to the Click & Rent offices. If you arrive early - just call the company on the number provided to request the shuttle. If no number has been provided customers are responsible for making their own way to the offices.
There is a large, and relatively new, fleet held by Click Rent, you will often get a vehicle that is less than a few months old. There are a wide range of vehicle sizes, from compact to medium, therefore you will be able to find a car that comfortably fits you, your party and luggage in.
Your car will come with a basic level of insurance, however this is the minimum and you may want to top it up with the range of additional insurance and excess reduction products available from Click Rent. You can purchase these from the firm, online and at the desk. You are also able to hire child seats and GPS navigational devices from Click Rent should you require them.
Click Rent are often chosen by customers for their competitive prices. As they are located off the airport site, they have less rent to pay and therefore can charge less for their vehicles. You may, however, be approached and encouraged to purchase Click Rent's additional insurance and excess reduction products whilst at the car hire desk so it is worth considering whether you would like this cover before you get to the office. If you are prepared for this to happen and happy with the price and choice of vehicles then you are likely to be a satisfied customer.
Branch Information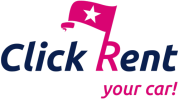 Address
Palma Airport Mallorca
Carrer Camp Franc, 27, Polígono Son Oms, Palma, Islas Baleares
07199
Opening Times
Mon
08:00
until
Mon
19:59
Tue
08:00
until
Tue
19:59
Wed
08:00
until
Wed
19:59
Thu
08:00
until
Thu
19:59
Fri
08:00
until
Fri
19:59
Sat
08:00
until
Sat
19:59
Sun
08:00
until
Sun
19:59



Out of hours may be possible for an additional charge, please run a quote to check availability.
Details
Click Rent operate from offices close to Mallorca Airport. The airport shuttle service operates for customers arriving at the airport. Being off airport allows the company to offer highly competitive rates for a high quality cars. The shuttle service operates from 24 hours a day during the Summer and from 08.00 to 20.00 from November to April inclusive.
Transfer Details
The vehicles are provided in our office next to the airport, in Polígono Son Oms, C/Camp Franc, 27, Palma. Our courtesy bus picks up customers outside the 2nd floor of the terminal at the time indicated in the reservation and takes them to our office, where the contract agreement is signed and the vehicle provided. If customers arrive earlier than the time shown on the reservation, they can request the transfer service by calling: +34 971 730 696. / The vehicle must be returned at the end of the rental period at the same office in Polígono Son Oms, as indicated in the contract. Our bus will take customers to the departures area of Palma Airport.
For your own peace of mind and to allow time for any unforeseen delays, we recommend arriving at our office 3 hours before your flight is scheduled to leave.
Airport service: You can book your vehicle pick-up and/or return at the airport: €25 per service. Our pick-up desk is on the 4th floor of the Palma Airport car park. The customer must pay the car park exit ticket, up to a maximum of €5. / Vehicles are returned at the airport on the 3rd floor of the car park, following the instructions of our staff. Delivery at the airport due to scheduling issues does not imply returning at the airport.
The transfer service is available 24 hours a day (May-Oct) and from 8 am to 8 pm (Nov-Apr), so customers whose flights are late or who will arrive at our offices after office hours must go to our pick-up point in the airport car park, where our representative will be waiting with the car. For reservations set to arrive after 1 am and before 6 am, a valid phone number is essential, and you must have confirmed the reservation by phone. Reservations with arrival time beyond 11.00 pm and before 7 am a valid flight number is required. For bookings with a valid flight number the shuttle bus will wait up to 1 hour from the time of landing.
For reservations without a flight number, the customer must request the transfer service on the telephone +34 971 730 696. The reservation will be cancelled after 1 hour from the time of the delivery scheduled in the reservation.