Firefly
Firefly Car Hire at Paris Charles de Gaulle Airport
Paris is one of the most popular holiday destinations and with a hire car, more of France opens up to you. In the heart of Paris there are all the famous attractions including the Eiffel Tower, Montmartre, the Louvre and Notre-Dame cathedral. But within easy reach is the wonderful Champagne region, Disneyland Paris, Chantilly and Orleans. If you are a racing fan then Le Mans is just a two hour drive away. This lovely town has an impressive cathedral and during July and August, the town puts on a spectacular show of lights.
Firefly are the budget branch of Hertz rental cars. They offer slightly older vehicles than their sister company but at generally lower prices making them good value for money. In peak season there may be a slightly longer wait at the car hire desk but the company does maintain a good reputation.
The Firefly desk at Charles de Gaulle airport is located on the Arrivals level at Terminal 2D. The rental desk area is clearly signposted.
At the desk you may be offered Firefly's own Super Cover insurance. They also can provide Glass and Tyres Cover and a Premium Emergency Cover. GPS units, mobile Wifis and children's car seats are also available on request. Additional drivers can be included for an extra charge.
Branch Information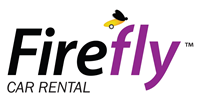 Address
Charles de Gaulle International Airport
Roissy en France
Terminal 2D
95700
Opening Times
Mon
08:00
until
Mon
20:00
Tue
08:00
until
Tue
20:00
Wed
08:00
until
Wed
20:00
Thu
08:00
until
Thu
22:00
Fri
08:00
until
Fri
22:00
Sat
08:00
until
Sat
13:00
Sat
14:00
until
Sat
17:00
Sun
09:00
until
Sun
13:00
Sun
14:00
until
Sun
20:00



Out of hours may be possible for an additional charge, please run a quote to check availability.
Details
Firefly are the budget branch within the Hertz brand, they offer higher mileage cars for a lesser price than Hertz. If you are looking for a low cost car rental with a big, reputable brand this could be the optimal choice for you. They are great for families looking for a hire car without paying a big premium!
Transfer Details
The car hire desk is located in terminal 2D, on the Arrival level, please look for car rentals sign and proceed to the desk to pick up your rental agreement and car keys.