Firefly
Firefly Car Hire at Paris Orly Airport
When you hire a car at Paris Orly airport it gives you the freedom to get to your destination at your own pace. If you are visiting with no fixed plans then we can suggest some great day trips from Paris with your hired car. Rouen, famous for the demise of Joan of Arc, is less than two hours drive away. It is situated in Normandy so there is plenty of wonderful produce to enjoy such as Camembert cheese. Talking of great produce, how about Reims which is argued to be where Champagne originated from. You can even book a tour round one of the Champagne houses.
Firefly are a budget car hire firm which means they offer cars at lower prices. Balanced against this, the cars tend to be just that little bit older and waiting times at the desk for customers can be a little longer particularly during peak periods. Firefly are a sister company to Hertz so customers can be reassured that they are a reputable company.
The Firefly desk at Paris Orly airport can be found in Hall 2 in the West Terminal. Pick up your keys here after completing your paperwork. The cars are located in the parking garage on level -1, lane E. It is just a short walk so no bus is needed.
Customers of Firefly may be offered various different packages at the desk. There is their Super Cover, Glass and Tyres Cover or the Premium Emergency Cover. Firefly can also provide GPS units, mobile Wifis and child car seats. Additional drivers can also be included.
Branch Information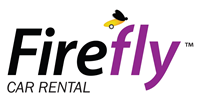 Address
Paris Orly Airport
West terminal
Level "Arrival" Hall 2
Cedex A438
Paris Orly AP
94547
Opening Times
Mon
08:00
until
Mon
13:00
Mon
14:00
until
Mon
20:00
Tue
08:00
until
Tue
13:00
Tue
14:00
until
Tue
20:00
Wed
08:00
until
Wed
13:00
Wed
14:00
until
Wed
20:00
Thu
08:00
until
Thu
13:00
Thu
14:00
until
Thu
20:00
Fri
08:00
until
Fri
13:00
Fri
14:00
until
Fri
20:00
Sat
08:00
until
Sat
13:00
Sat
14:00
until
Sat
17:00
Sun
11:00
until
Sun
13:00
Sun
14:00
until
Sun
20:00



Out of hours may be possible for an additional charge, please run a quote to check availability.
Details
Firefly are the budget branch within the Hertz brand, they offer higher mileage cars for a lesser price than Hertz. If you are looking for a low cost car rental with a big, reputable brand this could be the optimal choice for you. They are great for families looking for a hire car without paying a big premium!
Transfer Details
The Firefly office is located in the Orly West Terminal, level "Arrival" Hall 2. The Firefly parking lot is located at level -1 in lane E. The total journey between the counter and the car park is about 3 minutes on foot.