Firefly
Firefly Car Hire at Pisa Airport
The Leaning Tower of Pisa is one of the world's most well known landmarks and, along with its neighbouring cathedral, it is a must see if you are in the area. Pisa is in Tuscany, one of the most beautiful regions of Italy, famous for its breathtaking landscape, wonderful wines and delicious local food, it is without doubt an amazing place for a holiday. With a hire car from Pisa airport you will also have the opportunity to visit so many other great Italian destinations. Lucca is a charming walled city where you can climb the towers to admire the views. There is Florence with its art galleries and the Duomo, and Genoa, a wealthy seafaring city which was home to Christopher Columbus and can boast some fine palaces.
If you rent through Firefly, you will be choosing the budget arm of Hertz. The fact that they have the backing of a large brand can be reassuring for some. They are able to offer lower prices as the cars are often a bit older than those offered by Hertz and therefore may have a higher mileage recorded. Firefly are a good reputable company but, as they offer the car hire at a lower price, customers may find that they spend longer at the desk dealing with the sales patter regarding extras and additional insurance. If you are prepared for this, it may be insignificant.
The Firefly desk at Pisa airport is in the designated car rental building. This can be reached via a shuttle bus which leaves from outside the terminal. Alternatively, if you are happy to, is is just an 8 minute walk away along the red path. At the desk you may be offered other insurance products including Glass and Tyre cover as these areas are usually excluded from any Collision Damage Waiver that comes with the car hire. Extras offered by Firefly include child seats. GPS units and snow chains.
Branch Information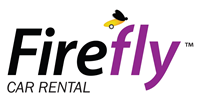 Address
Pisa Airport
Pisa Galileo Galilei Airport
Pisa
56121
Opening Times
Mon
08:00
until
Mon
23:59
Tue
08:00
until
Tue
23:59
Wed
08:00
until
Wed
23:59
Thu
08:00
until
Thu
23:59
Fri
08:00
until
Fri
23:59
Sat
08:00
until
Sat
23:59
Sun
08:00
until
Sun
23:59



Out of hours may be possible for an additional charge, please run a quote to check availability.
Details
Firefly is the family focused, budget branch within the Hertz brand, which offers you higher mileage vehicles, but still of good quality. They are the optimal choice for those customers who are looking for a low cost car rental with a big, reputable brand within Italy.
Transfer Details
From the Arrivals heading out of the building you will find on your right a BUS parking, look for the "Rent a Car shuttle Bus" which will take you directly to the Car Rental Building every 15 minutes. If you prefer to walk you can follow the red path in the same direction (about 8 minutes walk).