Pisa Airport
Pisa Airport Car Hire
Pisa Airport is one Italy's fastest growing international gateways, with double digit growth experienced for much of the last decade. Serving both scheduled and low cost airlines (it is a hub for both Alitalia and Ryanair). There has been considerable investment into the infrastructure of the airport and its transport links, although currently the main benefits have still to be seen from a passenger perspective.
Where are the car hire desks at Pisa Airport?
The most important thing to do is to follow the instructions on your rental documents. It will also depend on whether you have chosen an on airport supplier or one who is based off airport and operates a shuttle service.
The main location for car hire firms based on Pisa Airport is in the Car Rentals Terminal which is about 500 metres from the terminal building. You can reach it using a free shuttle bus service, located just outside the Airport Arrivals area (turn right). Alternatively you can also reach the Car Rentals Terminal on foot within 5 minutes.
For the budget conscious there is the option of off airport suppliers who are based about 10 - 15 minutes from the terminal. You will need to call an Italian number on arrival at Pisa airport to arrange your shuttle bus pick up. Having phoned through follow the Car Rental Shuttle signs just outside the arrival gate. Wait by the Car Rental Shuttle Stop and a branded shuttle will arrive to pick you up. Do not take any other shuttles as these will take you to the wrong location. Whilst we see plenty of positive feedback regarding our off airport supplier it is true to say that some customers find the transfer time rather to long - if you think you will find this trying we suggest using an on airport car fire firm
Where can I collect/drop off the car at Pisa Airport?
The on airport car hire drop off point is easily located if you follow the signs as you enter the airport.
If returning the car to the off airport supplier take the car back to the companies office where you collected it. The car rental company will arrange to drop you back to Pisa airport. Do allow an extra hour to complete the formalities at the car hire station and to get back to the airport.
Pisa Airport Top Tips
The station at Pisa airport is currently closed as there is a new people mover being built to transport travellers into and from the City Centre - expect some disruption.
If you are on a tight timescale send the driver onto the car hire centre to complete formalities while the rest of the party collect any bags. Do make sure any luggage receipts are left with the bag collectors so they can report loss if they go astray!
Map of Pisa Airport courtesy of www.pisa-airport.com
---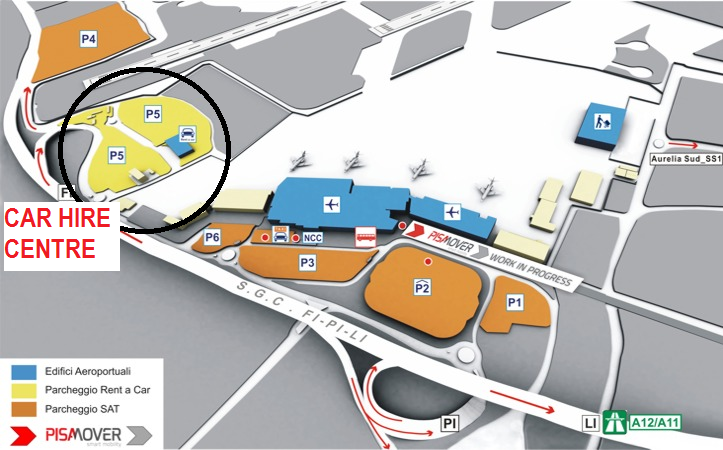 * Currently, the supply of green vehicles tends to be limited. Therefore, cars may not always be available when you search.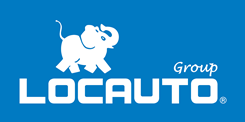 Opening Times
Mon
08:00
until
Mon
23:00
Tue
08:00
until
Tue
23:00
Wed
08:00
until
Wed
23:00
Thu
08:00
until
Thu
23:00
Fri
08:00
until
Fri
23:00
Sat
08:00
until
Sat
23:00
Sun
08:00
until
Sun
23:00
Locauto | Address
Pisa Airport
Via Cariola, 13
Pisa
Italy




56121
Details
Locauto is an Italian company, with a lot of experience in the car hire sector. They offer rentals across Italy for both short and long term. With a sizeable fleet of vehicles and many locations country-wide they make an ideal choice for holidaymakers and business people alike.
Transfer Details
Please, be aware that due to the fire that affected Monte Serra in Tuscany, the Pisa airport has been temporarily closed and flights have been cancelled. However, Locauto rental office at Pisa Airport is operative despite the closure of the airport. In the event that flights will be redirected to Bologna Airport or Florence Airport, all bookings will be modified manually by the reservation centre.
Please, treat the previous transfer details as temporarily not valid: After leaving the Terminal, you will need to wait for the free shuttle bus on the sidewalk, this will take you to the car rental building in few minutes. The Locauto parking is just a few meters away from the office, within easy walking distance.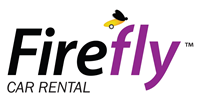 Firefly | Address
Pisa Airport
Pisa Galileo Galilei Airport
Pisa
56121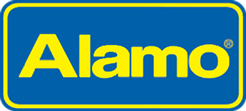 Alamo | Address
PISA AIRPORT
APTO G GALILEI VIA CARIOLA 13
PISA
56121

Opening Times
Mon
08:00
until
Mon
23:59
Tue
08:00
until
Tue
23:59
Wed
08:00
until
Wed
23:59
Thu
08:00
until
Thu
23:59
Fri
08:00
until
Fri
23:59
Sat
08:00
until
Sat
23:59
Sun
08:00
until
Sun
23:59
Hertz | Address
Pisa Ap
San Giusto Airport
Pisa
56121
Details
Hertz Car Rental is a well known, international car hire company. This premium brand offers their customers new, high quality vehicles for a good value price. Hertz car hire counters are conveniently located within airport terminals, which gives renters a stress-free car hire experience.

Enterprise | Address
PISA AIRPORT
AEROPORTO GALILEO GALILEI
VIA CARIOLA 13
PISA
56121

Opening Times
Mon
09:00
until
Mon
18:00
Tue
09:00
until
Tue
18:00
Wed
09:00
until
Wed
18:00
Thu
09:00
until
Thu
18:00
Fri
09:00
until
Fri
18:00
Sat
09:00
until
Sat
18:00
Sun
09:00
until
Sun
18:00
Green Motion | Address
Pisa Airport
Pisa Airport
Via Nazario Sauro 164
Cascina
Pisa



56021
Details
Green Motion offer great value car hire in Italy. They keep prices low by basing themselves off airport which means you will use a shuttle bus to get to and from their branch. For a number of locations, you will need to call the office directly when you arrive to ask them to come and collect you from the airport and take you to the office.
Transfer Details
Green Motion's rental location is based only a few minutes from Pisa Airport and they provide a free shuttle service for your convenience. When arriving, please call the number on your booking voucher (0039 050 700411 or 0039 3385703937) to request the shuttle bus. Follow the Car Rentals directions to just outside the arrival gate. Stand nearby the Car Rental shuttle platform, until a member of Green Motion's staff will come to pick you up. Please do not take other Car Rental shuttle buses.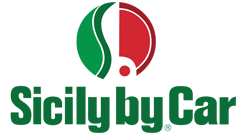 Sicily by Car | Address
Pisa Airport
APT G. Galilei - Desk in Terminal
PISA
PI
56100

Centauro | Address
Pisa Airport
Vía Darsena, 1
Junto a Hotel Galilei
Pisa





56121