Adobe
We Review Adobe Car Hire from San Jose Airport Costa Rica
San Jose International Airport is the gateway to Costa Rica for most European visitors. For those wanting to explore the myriad wonders of this fantastic country it is a great place from which you can start your adventure.
As one of Costa Rica's largest car hire companies Adobe pride themselves on their modern fleet (no vehicles is more than two years old) and first class customer feedback. At San Jose Airport you will be met by an Adobe member of staff as you exit the arrivals gate and they will direct you to the shuttle bus. From there you will be driven to the Adobe office which is located close the airport in Alajuela.
Do ensure that if you are flying into San Jose Airport that you have provided your flight number when making your booking so the company can provide an efficient meet and greet service. They are also able to offer a free local delivery to locations no further than 12 miles from their office - if you would like us to arrange this please book you car from the appropriate office and then contact us at Clarify so we can inform Adobe. 7 days notice is required to arrange delivery.
Abobe also offer extras such as car seats and GPS devices which can be pre-booked when you reserve your car. GPS devices in particular are highly recommended as signposts are few an far between once you are off the main Costa Rican Highways.
Be aware of the special insurance rules that apply in Costa Rica - and make sure you include an inclusive package to be fully protected. Use our special filter on the clarify site if you want to ensure you have full third party cover without an excess. You can see it below: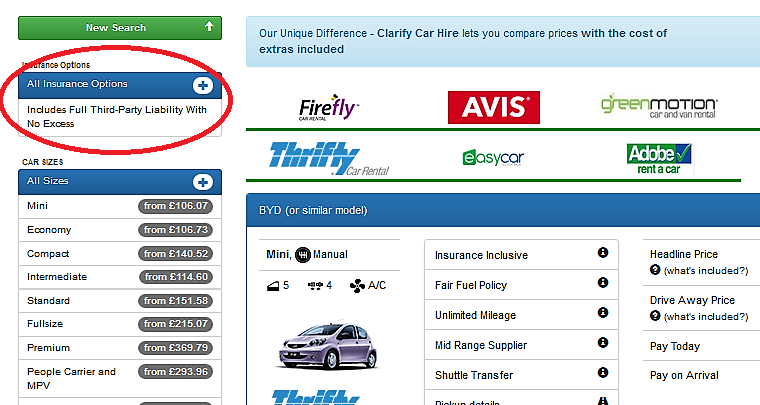 Those who choose to rent with Adobe at San Jose will be looking to balance cost with comfort. They will be happy getting the shuttle bus to the office because of the competitive deal the company offer. They will be able to expect a modern car less that 2 years old. If this is the sort of rental you are looking for you are likely to be a satisfied customer at the end of your rental.
Branch Information

Address
San Jose Airport (Juan Santamaria)
Adobe Rent a Car, Route 3
Río Segundo
Alajuela
Costa Rica
20109
Opening Times
Mon
05:00
until
Mon
22:00
Tue
05:00
until
Tue
22:00
Wed
05:00
until
Wed
22:00
Thu
05:00
until
Thu
22:00
Fri
05:00
until
Fri
22:00
Sat
05:00
until
Sat
22:00
Sun
05:00
until
Sun
22:00



Out of hours may be possible for an additional charge, please run a quote to check availability.
Details
Adobe Rent a Car is a large local car hire company. Their fleet is made up of cars that are less than 24 months old and therefore customers can expect good quality, fairly modern cars. They have extensive offices around Costa Rica to make it easy for you to pick up your car at a location that works best for you!
Transfer Details
After passing through Customs, go to the Terminal Exit, on the way you will find the booths of some rent a car, neither Adobe Rent a Car nor EasyCar Costa Rica have cubicles in that area. A meet and greet service is provided when leaving the terminal, locate the representative who will be carrying a sign with your name and flight number, he will guide you to the transfer service to the office near the terminal. Your car will be waiting for you after completing the rental documentation.