Hertz
Hertz Car Hire in San José, Costa Rica
San José is the capital city and for those spending time here, being able to hire a car without having to go back to the airport is ideal. You can enjoy the city's many attractions before using your rental car to venture out and about. The beaches with their gleaming white sands offer watersports such as snorkelling, swimming and surfing as well as the chance to just relax and enjoy a good book. There are numerous hiking trails through a selection of national parks. Catch a glimpse of the local wildlife here - there are at least 200 species of birds!
Hertz are a well-known firm which operate a premium level service. They take good care of their customers and ensure that their vehicles are maintained to a high standard. The range of cars to choose from is wide and includes SUVs which many opt for when driving in Costa Rica. Customers often decide to go for Hertz when they want a stress-free car hire experience.
Car hire in Costa Rica can come with a Third Party excess. Clarify Car Hire has a filter to allow you to seek car hire which covers this.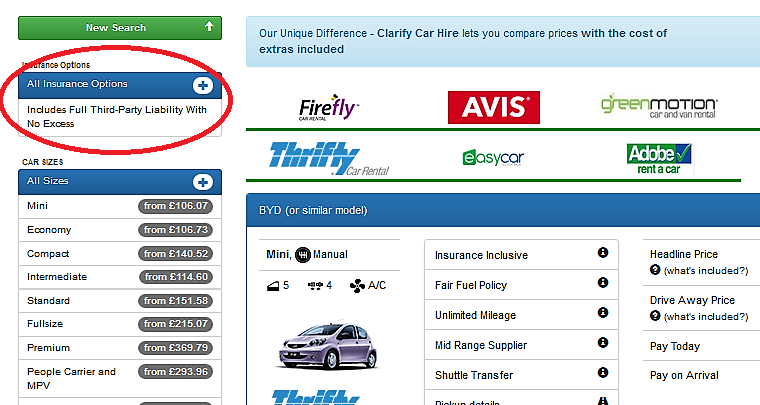 Choose between Hertz's different packages to find a level of excess liability that you are comfortable with and make sure you add in any extras that you will definitely need. Signposts in Costa Rica can be few and far between so many visitors opt to include a Satnav.
Branch Information

Address
San Jose, Alajuela
Paseo Colon and 38th Street
San Jose (Alajuela)
Costa Rica
Opening Times
Mon
07:00
until
Mon
18:00
Tue
07:00
until
Tue
18:00
Wed
07:00
until
Wed
18:00
Thu
07:00
until
Thu
18:00
Fri
07:00
until
Fri
18:00
Sat
07:00
until
Sat
17:00
Sun
07:00
until
Sun
17:00



Out of hours may be possible for an additional charge, please run a quote to check availability.
Details
Hertz Car Rental is a well known, international car hire company. This premium brand offers their customers new, high quality vehicles for a good value price across Costa Rica. Hertz car hire counters are conveniently located at both of the main airports within Costa Rica, with more offices located at major towns, making your rental convenient wherever you decide to pick up!
Transfer Details
Please proceed to the Hertz location address.