Payless
Payless Car Hire in San José, Costa Rica
San José is Costa Rica's capital city so you may want to take a little time here to get to know it before you embark on the rest of your trip. Hiring from an office in the centre of the city can be ideal if you do not need a car for the first few days. With a hire car from San José you can reach some of the most splended attractions. Take your pick of several National Parks. Los Quetzales is home to the largest population of Quetzal birds. San Gerardo de Dota is a beauty spot where you can spot birds from around 200 species. Savegre river is a fantastic area for fishing and hiking. The coast with all its amazing beaches is only and hour or two away.
Customers who choose to go with Payless are looking for good value car hire. Their cars are a little older so, if you are looking to hire a new model, then they may not be for you. If you want to keep your holiday costs down though they could be a good choice. The Payless office in downtown San José is in a very central location which is easy to find.
When you hire in Costa Rica you can find you have not only an excess on your Collision Damage Waiver but also on the third party cover too. To ensure you have full cover then you can use the special filter provided by Clarify to narrow down your results.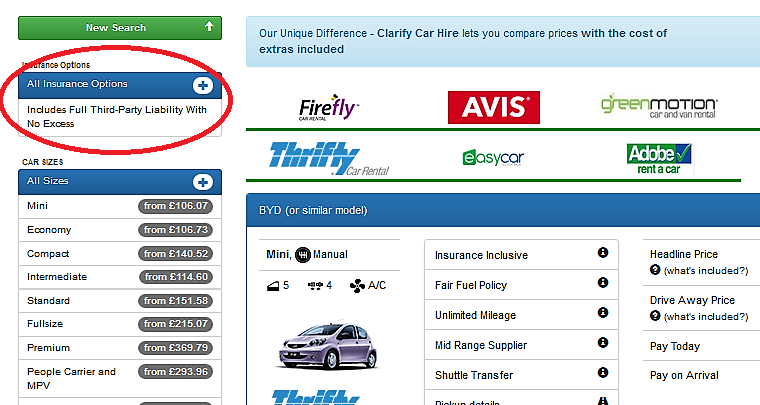 The advantage of Clarify is that there is help at hand should you have any queries. Our Contact Us page at the top of your screen has all the details you need to get in touch.
Branch Information

Address
San José Downtown
Paseo Colón, between 36th - 38th streets
00506 2256-0101
Opening Times
Mon
07:00
until
Mon
17:00
Tue
07:00
until
Tue
17:00
Wed
07:00
until
Wed
17:00
Thu
07:00
until
Thu
17:00
Fri
07:00
until
Fri
17:00
Sat
07:00
until
Sat
17:00
Sun
07:00
until
Sun
17:00



Out of hours may be possible for an additional charge, please run a quote to check availability.
Details
Payless Costa Rica is a budget supplier who has its rental desks a short shuttle bus ride from the two main airports in Costa Rica. They offer great value prices and hold a varied but slightly older fleet of cars. If you are looking for a high-quality supplier and are not worried about having the newest car, Payless Costa Rica could be the company for you!
Transfer Details
Please proceed to the branch to obtain your rental agreement and keys.