Firefly
Firefly Car Hire at Toulouse Airport
Toulouse is the regional capital of Occitanie. With car hire you can see much more of the area and really appreciate what this area of France has to offer. There are many beautiful quaint villages in the area including Albi. It is a UNESCO World Heritage City with a fabulous gothic cathedral. Montaubon has some of the most stunning architecture of the region much of which is in the traditional pink stone. It is also worth taking a trip to one of the nearby vineyards but just be sure to elect a designated driver so you can safely get home!
If you are looking for good value car hire then Firefly may be the right choice for you. They are priced slightly lower than their sister brand Hertz as although they have the same good range of cars, they are usually just a little older with more miles on the clock. Customer service is good but in the busier months there can be a slightly longer wait at the car hire desk.
The Firefly desk at Toulouse airport is located in a cabin in the car park. The signs from the terminal building will direct you to the Firefly car park and the cabin in P2.
If you wish, you can take out extra insurance cover with Firefly. They have a Super Cover package, Tyres and Glass cover and a Premium Emergency Cover. Customers can choose to hire a GPS unit, a mobile Wifi or child car seats. Additional drivers can also be added when you get to the desk.
Branch Information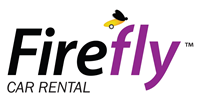 Address
Toulouse Airport
Aéroport de Toulouse Blagnac
Parking P2
Blagnac
31700
Opening Times
Mon
08:00
until
Mon
20:00
Tue
08:00
until
Tue
20:00
Wed
08:00
until
Wed
20:00
Thu
08:00
until
Thu
20:00
Fri
08:00
until
Fri
20:00
Sat
08:00
until
Sat
20:00
Sun
10:00
until
Sun
20:00



Out of hours may be possible for an additional charge, please run a quote to check availability.
Details
Firefly are the budget branch within the Hertz brand, they offer higher mileage cars for a lesser price than Hertz. If you are looking for a low cost car rental with a big, reputable brand this could be the optimal choice for you. They are great for families looking for a hire car without paying a big premium!
Transfer Details
From the terminal, follow the Firefly car parks signs. The Firefly cabin is situated in the Car Park Parking P2.