Solmar
Valencia is a great place to visit for its cultural attractions and its proximity to various coastal towns. This makes it the ideal place to hire a car as you really can use it to its full potential and explore all the region has to offer.
SolMar is located near to the airport, but is a short shuttle bus journey away. When you arrive at Valencia Airport, you can find the meeting point on the First Floor (Floor 1) in the Departures area. Exit the terminal and the shuttle bus stop will be to the right, here customers can get the shuttle bus to the SolMar office where you will be able to sort out the paperwork and collect your car keys.
There are a range of vehicles offered by SolMar to its customers, from small to big, allowing you to choose the size that will suit your party most comfortably. SolMar have the choice of many additional products such as booster seats and GPS devices which can be rented by customers.
SolMar cater to customers who are looking for a competitive deal on their car hire, however, they are likely to approach you about buying additional insurance and prepaying for a tankful of fuel. If you are aware of this you are likely to be satisfied with their service. But if you would prefer not to deal with this you may find that a slightly more expensive car hire deal with another company will leave you happier.
Branch Information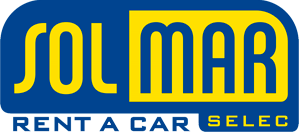 Address
VALENCIA AIRPORT
C/AVIACION 64,
MANISES
VALENCIA
46940
Opening Times
Mon
08:00
until
Mon
22:00
Tue
08:00
until
Tue
22:00
Wed
08:00
until
Wed
22:00
Thu
08:00
until
Thu
22:00
Fri
08:00
until
Fri
22:00
Sat
08:00
until
Sat
22:00
Sun
08:00
until
Sun
22:00



Out of hours may be possible for an additional charge, please run a quote to check availability.
Transfer Details
When you arrive at Valencia Airport proceed to the meeting point is on the first floor, in the departures area. Walk outside you will find the bus stop on the right, where our courtesy bus will be waiting to shuttle you to the offices. If you have any issues call the company on the number provided. To ensure the company are fully aware of your arrival time please do ensure you provide a flight number.