Mex Rent A Car
Mex Rent A Car at Warsaw Chopin Airport
As the capital city of Poland Warsaw sees its fair share of overseas visitors. Many come to take in all the city has to offer but even more look to see the surrounding area too and a hire car from Warsaw Chopin airport is the perfect way to get around. Admire the beauty of Wilanow Palace and the Royal Castle, and the Warsaw Rising Museum has more than enough to keep you occupied for a day. From Warsaw you can easily reach several of the other major cities of Poland by car. Poznan is a particular favourite with tourists as much of the historical architecture has been restored well. If you want a break from the city try the Masurian lake region.
Mex Rent A Car are a Mexican company who operate internationally. They provide a modern fleet comprising a broad range of sizes from which customers can choose. Their service is popular with both leisure and business travellers. When hiring through Mex at Warsaw Chopin airport you will need to look out for one of their representatives on your arrival as they will be holding a board with your name on. This is a Meet and Greet system.
Mex offer a competitive car hire package which can be tailored further for your needs. Add in extras such as child safety seats or a satnav. If you wish you can also include an additional driver for the relevant fee.
Branch Information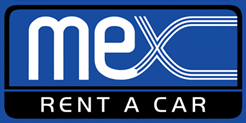 Address
Warsaw Chopin Airport
Warsaw Chopin Airport
Jamesa Gordona Bennetta 12
Warsaw
02-159
Opening Times
Mon
00:00
until
Mon
23:59
Tue
00:00
until
Tue
23:59
Wed
00:00
until
Wed
23:59
Thu
00:00
until
Thu
23:59
Fri
00:00
until
Fri
23:59
Sat
00:00
until
Sat
23:59
Sun
00:00
until
Sun
23:59



Out of hours may be possible for an additional charge, please run a quote to check availability.
Transfer Details
Upon arrival and after collecting luggage please proceed to the arrival hall of Warsaw Chopin Airport. Please look for our representative who will be waiting for You next to the MEETING POINT (Terminal A - "Exit no. 2"), holding a MEX board with Your name written. If needed, please call: (+48) 733733739 for assistance.