Firefly
Firefly Car Hire at Zagreb Airport
Zagreb is the capital city of Croatia. It is a city that has seen a major increase in the amount of its visitors. Visit the cathedral with its two spires and stroll along the pedestrian area where you can stop in at one of the many cafes that line the streets. There are plenty of museums and shops within the town - it is a hive of culture, the arts, sport and academia - but a hire car will also give you the opportunity to explore further afield. Try Plitvice, Varazdin or Samobar all within reach of Zagreb.
Firefly are part of the same group as Hertz although they aim rather more at the budget end of the market. They still maintain a wide range of vehicles but they are a little older and have more miles on the clock than Firefly's sister brand Hertz. However customers are therefore offered car hire at a lower rate yet can still expect the same level of customer service. Customers should head to the Firefly desk to collect their keys on arrival at Zagreb airport.
If customers wish to remove the excess and deposit they can choose to take out Firefly's Super Collision Damage Waiver package. There is also an optional Tyres, Wheels and Glass cover. Firefly also provide car hire with fair fuel and unlimited mileage. For an extra fee customers can include child car seats, a GPS, snow chains, or an additional driver.
Branch Information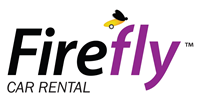 Address
Zagreb International Airport
Zagreb International Airport
Ulica Rudolfa Fizira 1
Zagreb
Croatia
10150
Opening Times
Mon
00:00
until
Mon
23:59
Tue
00:00
until
Tue
23:59
Wed
00:00
until
Wed
23:59
Thu
00:00
until
Thu
23:59
Fri
00:00
until
Fri
23:59
Sat
00:00
until
Sat
23:59
Sun
00:00
until
Sun
23:59



Out of hours may be possible for an additional charge, please run a quote to check availability.
Details
Firefly Car Rentals are the budget part of the Hertz Rent a Car family. They offer older, higher mileage vehicles for a great price! If you are a family and do not want the newest vehicle but want the reassurance of an international firm, then Firefly could be for you! In peak times you could encounter long queues and the staff are likely to offer you excess insurance at the car rental desk.
Transfer Details
Please proceed to the Firefly Car Rentals desk in Zagreb Airport terminal where you can collect your rental agreement and vehicle keys.