Centauro
Centauro Car Hire located at Alicante Airport
Alicante has a mix of both city sights and attractions, and beautiful coastline and ports. By hiring a car you have the opportunity to visit wherever takes your fancy, whenever it suits you. The freedom to travel around without the limitations of transport is definitely worthwhile in this region.
Centauro is located within the Terminal building at Alicante Airport. You will find their desk on the Ground Floor (Floor 0) of the terminal. From here you are able to sign the paperwork and collect the vehicle keys.
There is a large fleet of vehicles at Centauro, this means that there is range of sizes of vehicle. Whether you are a small or large party, Centauro are likely to be able to meet your car size needs.
A range of packages are offered by Centauro. These go from Basic to Premium packages. The Basic including a Full-Empty fuel policy, insurance with excess insurance. The Premium package, however, offers a Full-Full fuel policy, collection without waiting and insurance without excess. You can also add items such as additional drivers, car seats and GPS devices to make your journey more comfortable.
Centauro do offer very competitive rates and are conveniently located within the terminal, however it is likely that you may be approached about either purchasing more insurance or a fuel policy. If you are aware of this, then you are likely to be satisfied with the company. If you would rather not be approached about purchasing products you don't want, you may like to look for a different company that is slightly more expensive.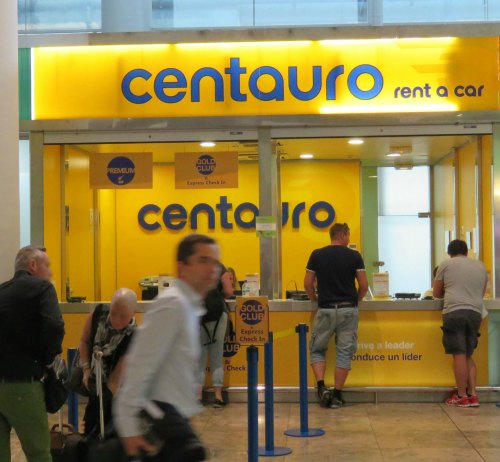 Branch Information

Address
Alicante Airport
Aeropuerto El Altet
El Altet
Alicante
03195
Opening Times
Mon
07:00
until
Mon
23:59
Tue
07:00
until
Tue
23:59
Wed
07:00
until
Wed
23:59
Thu
07:00
until
Thu
23:59
Fri
07:00
until
Fri
23:59
Sat
07:00
until
Sat
23:59
Sun
07:00
until
Sun
23:59



Out of hours may be possible for an additional charge, please run a quote to check availability.
Details
Centauro, the low cost Spanish car hire company, have a desk in the arrivals hall at the airport. Cars are returned to the Centauro Car Park, but the company will supply full details and a map on your arrival to make sure you can't go wrong!
They are open from 7am to midnight daily.
Please be aware, Centauro at Alicante Airport can be very hard sell at the desk with their insurance. We certainly wouldn't advise using Centauro at Alicante Airport unless you take Centauro's SMART Insurance or have excess insurance and are prepared to be very firm in declining Centauro's insurance at the desk.
Transfer Details
No transfer required - the Centauro desk is in the arrivals hall.