Alamo
Alamo Car Hire at Carcassonne Airport
The town of Carcassonne is well known for its citadel which hails from the medieval times. There are several watchtowers and walls surrounding the castle giving it a real fairytale charm. It is very popular particularly in the summer but there are plenty of places to explore within easy reach of Carcassonne. Sete by the sea, Cathar castle, the wonderful city of Toulouse or some of the smaller cities such as Montpelier, or Narbonne. You could even choose to head into the Pyrenees. Carcassonne is a fantastic location for exploring this beautiful region of France.
Alamo are the leisure arm of Enterprise car rental. Their prices tend to be a little lower than their sister company. There is a wide range of cars which are maintained to a high standard. Customers can benefit from Enterprise's well positioned desks. At Carcassonne airport the Enterprise desk is inside the terminal building so customers do not need to use a shuttle bus.
Alamo offer an Excess Protection package which reduces the amount of excess you are liable for. You can also opt for their Tyre, Glass and Roadside Assistance product. Child car seats, satnavs and additional drivers can be included with your car hire but they will mean an extra charge too.
Branch Information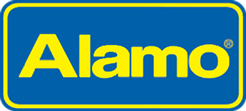 Address
Carcassonne Airport
Carcassonne Airport
Rue De Jacques Vaucanson
Carcassonne
K
11000
Opening Times
Mon
09:00
until
Mon
12:00
Mon
14:00
until
Mon
18:00
Tue
09:00
until
Tue
12:00
Tue
14:00
until
Tue
18:00
Wed
09:00
until
Wed
12:00
Wed
14:00
until
Wed
18:00
Thu
09:00
until
Thu
12:00
Thu
14:00
until
Thu
18:00
Fri
09:00
until
Fri
12:00
Fri
14:00
until
Fri
18:00
Sat
09:00
until
Sat
12:00
Sat
14:00
until
Sat
17:00



Out of hours may be possible for an additional charge, please run a quote to check availability.
Details
Carcassonne Airport is located a short way outside of the centre of the town. It situated fairly close to Toulouse, a popular destination for visitors, as well as being close to Montpellier, which is slightly up the coastline.
Transfer Details
Alamo customers are catered for by the Enterprise Rent A Car desk. The Enterprise car hire desk is located within the terminal building at Carcassonne Airport. A shuttle bus is not needed to reach the desk.